What our clients are saying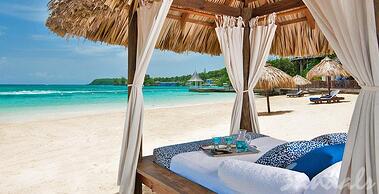 Our number one priority is planning a stress-free vacation that our clients will remember forever. Starting with the planning process and continuing through your stay at the Sandals and Beaches resorts, you will be treated like kings and queens whether you are celebrating a honeymoon, destination wedding, 25th wedding anniversary trip, romantic getaway or Caribbean family vacation.
Here is what our clients are saying about their experience. Take it from them!
"Our honeymoon was absolutely wonderful! You could not have picked a better place for us to enjoy our first nights as newlyweds. The service was unbelievable -- by the end of our stay, everyone knew our names and details about us. Everyone seemed to care about our well-being and if we were enjoying our stay. Adrienne, the beach butler, was extremely nice and picked up quick that we weren't drinking alcohol. He didn't make a big deal about it, but made sure that we knew what he brought us was "virgin." Sonjay, a server, had such a sweet spirit and was delighted every time we enjoyed our meals with him. The resort was quiet, but inviting and entertaining. Our favorite part of the plantation was it's bed and breakfast feel. It was low-key and we felt as though we were at someone's house visiting. There was not one thing we would change about our honeymoon. We loved our room, the staff, and mostly, our time together. Thank you for helping us choose a honeymoon spot that fit us perfectly! No vacation will ever be the same." -Traci (Honeymoon at Sandals Royal Plantation, June 2013)
"The wedding went fabulous!!! Everything was perfect and beautiful. The honeymoon was even better! We absolutley LOVED Sandals whitehouse and we can't wait to start saving for an anniversary trip in a year or two to go back! We spent time at the bar, relaxing in the room, laying on the beach, we also went snorkeling, we enjoyed the restaurants and night time activities. The service was unbelievable! We are very happy with how everything turned out and I will let you know about our next trip..." - Amanda (Honeymoon at Sandals Whitehouse, March 2013)
"We loved our time at Sandals Montego Bay! It was a little close to the airport, but it was paradise either way. We had a wonderful time on the horse back riding tour, and even did a few other adventures. We will definitely do this again!" - Chad (Honeymoon, Sandals Montego Bay, December 2012)
"We had an absolutely AMAZING time! Sandals Montego Bay was fabulous! The staff was so friendly and helpful. Our butlers, Andrea and Omar, made the trip so special and perfect for us. Each morning they had breakfast waiting for us on the patio with mimosas and fruit martinis and each night they had a bubble bath with champagne and snacks prepared for us...This trip was absolutely ideal. Thank you, Kali, for recommending this resort to us. You have been so helpful. Not only will we return to Sandals, but we will recommend you to all of our friends. I look forward to working with you again; hopefully sooner than later!" - Chad and Amy (Honeymoon, Sandals Montego Bay, Bay Roc Villas, October 2012)

"Thanks Robbie! We had a blast! We are looking at going back next December…" -Chris and Brooke (Honeymoon, Sandals Grande Riviera, October 2012)

"The trip was awesome and was everything we wanted. You all did an amazing job and we will be using you again. Thanks for everything!" - Scott (Honeymoon, Sandals Emerald Bay, October 2012)



Read our reviews on Wedding Wire
Read all of our
Travel Reviews
at