Let me exceed your vacation expectations
The Sand Lady is a Best of the Best Preferred Sandals and Beaches agency. In our 20+ years experience with planning honeymoons, destination weddings, all inclusive getaways and special family vacations, we have developed a process for helping you select the perfect Caribbean resort for your vacation. We make it our job to understand your expectations and ensure that your trip exceeds them... all within your budget and at no additional cost to you.
2 Travel Anywhere LLC. has completed its acquisition of Royal Travel, also known as The Sand Lady, founded by Mike and Robbie Phillips. After much searching, we were able to find new ownership that is just as passionate about God's gift of travel. The new couple acquiring Royal Travel are comparable to my parents (Mike and Robbie Phillips) in so many ways. They are a loving, Christian couple with a very similar story and background. We felt that the transition with our client base would be seamless one due to Carlie & Clint Finch being natives of Tennessee, as well as their ability to easily connect with our customers. My parents' legacy is going to continue to thrive under the wonderful leadership, while also continuing to grow and service our clients, who we consider family.
After almost 30 amazing years and promoting the connection of couples and families through travel, Royal Travel will now be part of a spectacular travel entity known as 2 Travel Anywhere LLC. The owner is not only knowledgeable, but she drives her business to continually expand, develop and strive to enrich the guest travel experience. The Royal Travel Family has had the pleasure of knowing Carlie, the new owner, for over 10 years. Carlie opened her business in 2011, and it is largely focused on Sandals & Beaches Resorts, like Royal Travel. Carlie and her husband have been to all of the Sandals & Beaches properties and have achieved the highest award of being a Chairman's Royal Club Member. Chairman's Royal Club is an identity for only the best agencies, and top producing of the Sandals & Beaches brand. We are confident that our relationship with 2 Travel Anywhere, and the confidence my parents had in Carlie, will carry through during this acquisition.
With this ownership change, 2 Travel Anywhere will continue to broaden their business platform, which will only benefit our travel customers who leaned on my parent's for so many years in finding the perfect fit for their vacation. We are so blessed to have found the perfect fit for Royal Travel, which will continue to bring others together and share God's beautiful creation we know as travel.
865.977.1402 or thesandlady@royal-travel.us
Awards and Accreditations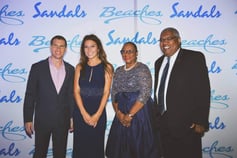 The Sand Lady was honored to be recognized as a Top 10 Agency in the World by Sandals and Beaches Resorts at the 2015 STAR awards. Click here to see other recognitions as well.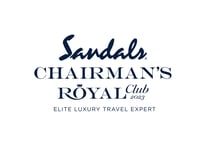 Our past honeymoon and destination wedding clients love us! And they recommend that you use our services. Click here to see our reviews.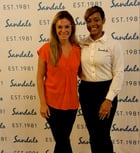 The Sand Lady was named one of the Best of the Best agency for 2022. Click here to read the press release.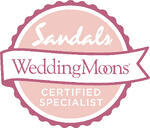 Certified Sandals WeddingMoons Specialists nation-wide. Click here to read the press release.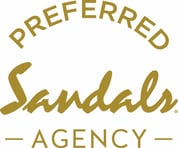 Because we are highly trained by Sandals and Beaches and because we have more experience selling these properties than other agents, we have been named a Preferred Agency by Sandals and Beaches resorts. You should feel confident that your Caribbean vacation will be a memory for a lifetime!