There are so many features included with your stay that set the Sandals and Beaches resorts apart from other all inclusive Caribbean vacations. Sandals refers to these as More Quality Inclusions. One of my past guests' favorite inclusions - and my personal favorite - is Sandals exclusive Personal Butler Service.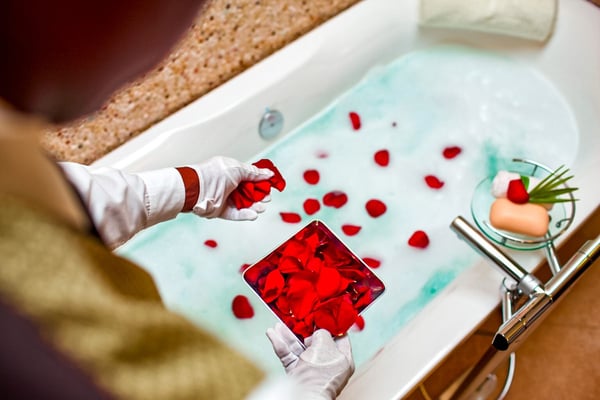 Although I have had clients give me a hesitant look when I offer a room with Personal Butler Service, I have NEVER heard anyone (my clients or others) describe their butler experience as anything but overwhelmingly positive. Almost all of my clients who select a suite with Personal Butler Service come back from their vacation and report that they plan to do it each time they return to a Sandals property. They recommend it to their friends.
So you're kind of interested, because this is something very different than you've experienced - or most of your friends and family have experienced - before. But you're skeptical. "Why would I need a butler? I'm not high maintenance. All I need is a comfortable chair by the pool/on the beach, a cool drink in my hand and a good book/my loved one by my side." Yes, and I garantee you will enjoy your perfect vacation at a Sandals resort. You will absolutely love it. But should you choose a suite with Personal Butler Service, you will come back telling me story after story of how your butler enhanced the relaxation, the luxury, and the romance of your vacation. I've seen it time and time again.
It will take me three blog entries to give you the full picture of this remarkable feature of the Sandals and Beaches resorts.
Here, let me tell you just a few of the ways your butler will enhance your time on resort.
When you arrive, you butler will have already double checked that your suite is prepared and your preferences are already in-suite. He or she will greet you as you arrive on resort and escort you to your suite where he has prepared refreshments for you, and he will conduct your private check-in in your room. There have been times that my clients arrived on resort during lunch. Their butler knew they would be hungry and he escorted them first to lunch, then returned to take them to their suite for check-in.
Each morning, your butler will serve you breakfast on your patio/balcony or in your room if you like. I encourage my clients booking a suite with Personal Butler Service to choose a room on the ground floor. This way, your butler can set up your breakfast table without disturbing you. Once you are up and enjoying your view, he will serve your coffee and breakfast.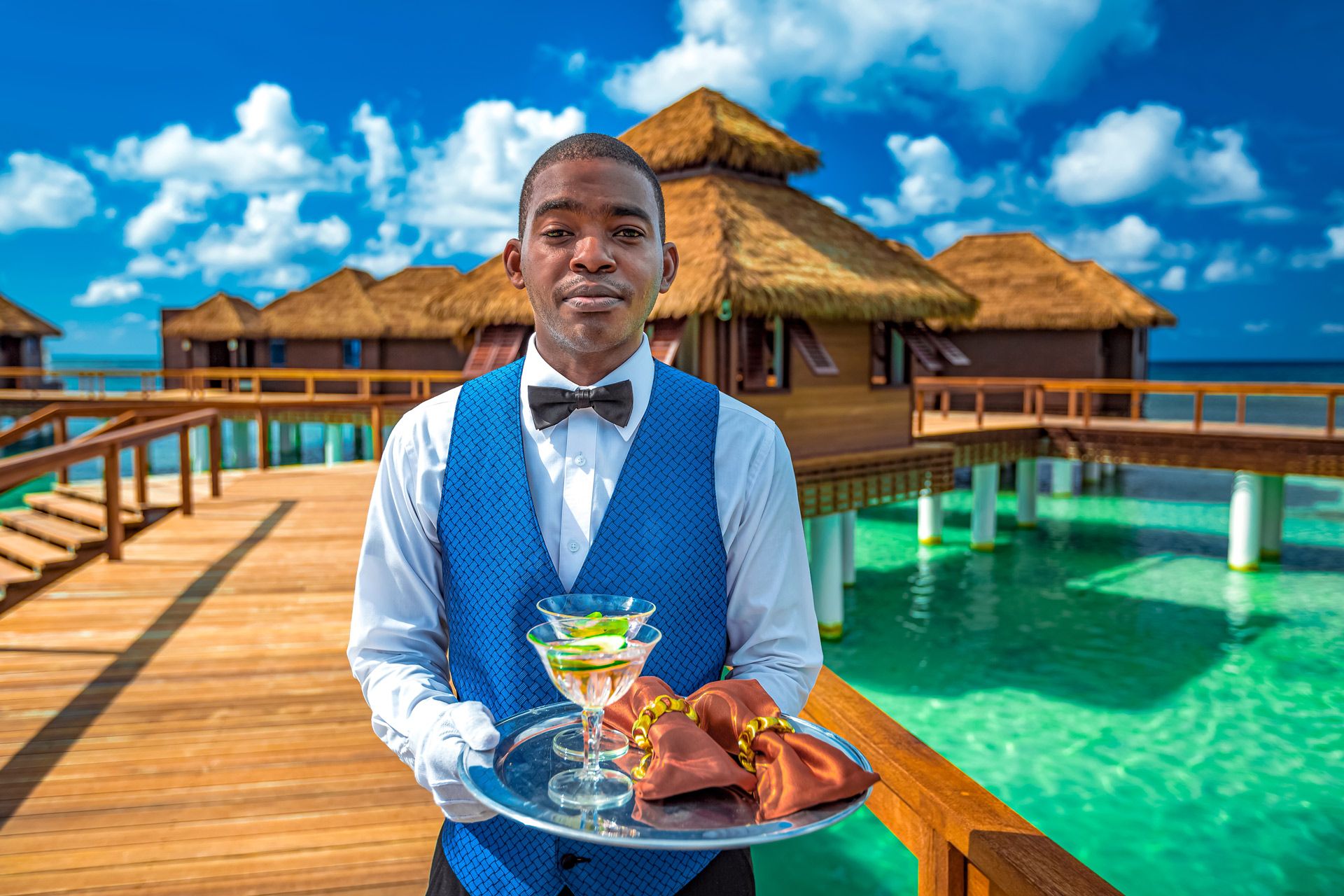 During your stay, your butler will make all restaurant and tour reservations for you. Most Sandals properties have one or two very popular restaurants with limited seating that require reservations for dinner. When you arrive, your butler will have already secured reservations at each of these for you. Of course, should you wish to change which night or time you dine, he will see that your reservations are changed. Each night, he will come escort you to your table in your chosen restaurant. And you will receive premium seating with the most beautiful view and romantic atmosphere.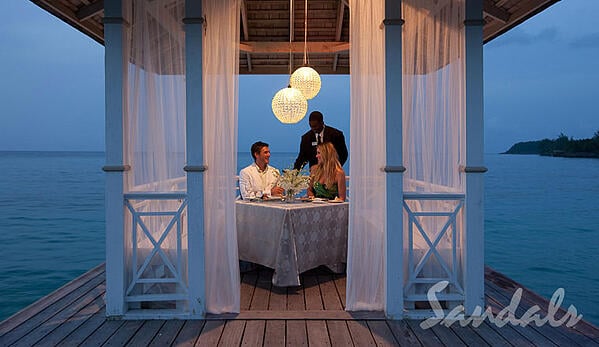 Let me give you a personal example of how your butler will enhance your vacation. Your butler will give you a cell phone so that you can call his phone any time you need somthing. My husband and I were in the pool one day and met another couple that was raving about a catamaran tour they had been on the previous day. We decided we should try it while we were there as well. Normally, I would have gotten out of the pool, dried off, put on a cover-up and shoes, walked to the tour desk, stood in line, and made a reservation for our tour. Then, I probably wouldn't have wanted to get wet again and would have considered not returning to the pool. But I had a butler on this trip. So I grabbed my butler phone, called the only number saved in the phone, and my butler answered, "Jerry the butler!" in a tone that requires a smile. I told him which tour we'd like to try, and he said, "It is done." A few minutes later, he appeared at the pool to confirm our departure time for the tour the next day... and brought my husband and I a refill on our favorite drinks.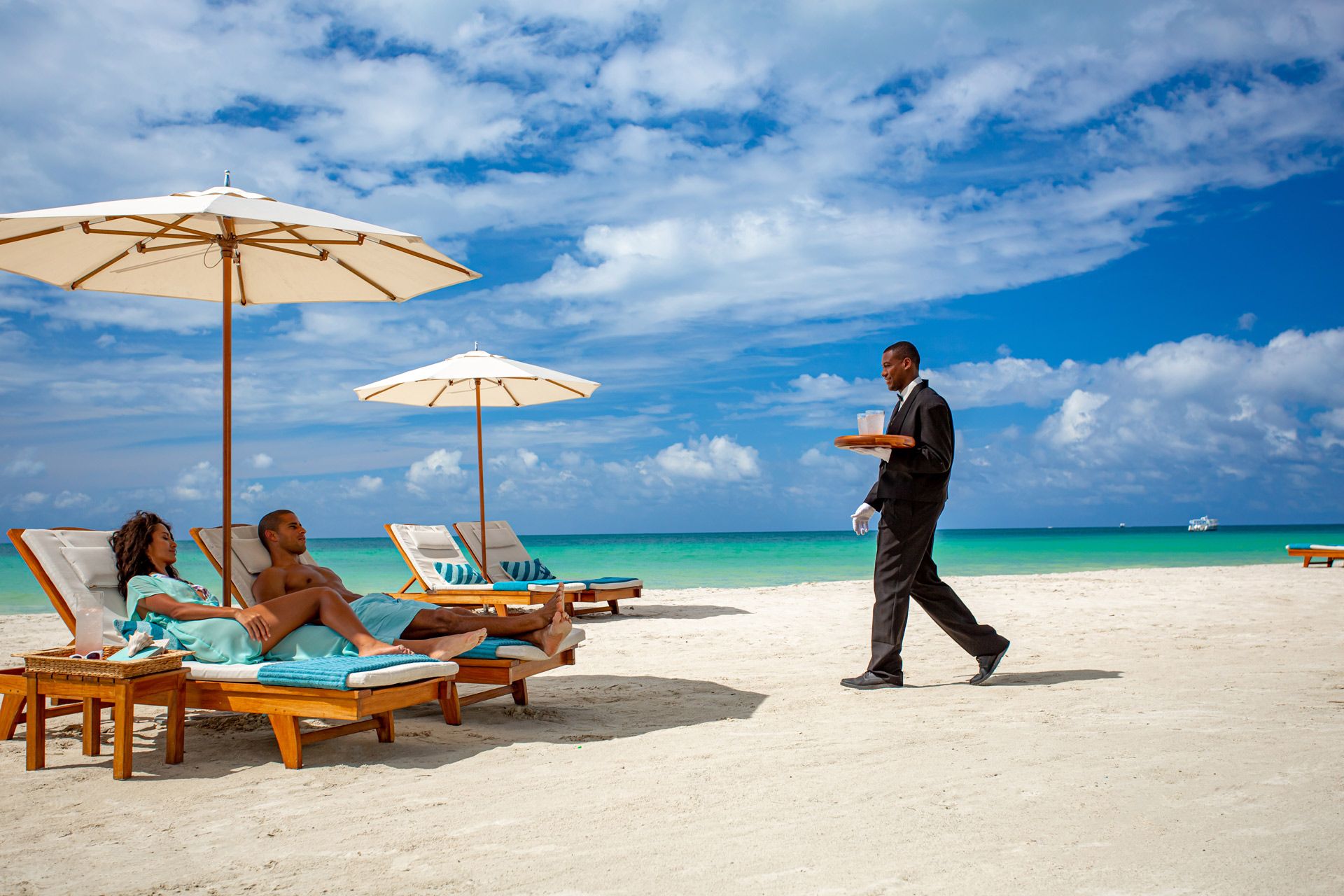 Our tour the next day took us off property for the whole afternoon and evening, and it included dinner. When we got back, our butler was waiting for us as the catamaran pulled up to the beach. He carried my bag and asked how our time was as he escorted us back to our suite. Then he left us at the door and said his goodnight. When we walked in, he had drawn a bubble bath, lit candles, and sprinkled rose pelals all over the bathroom. There was champagne icing in a bucket by the bath. He knew we would want to relax when we returned...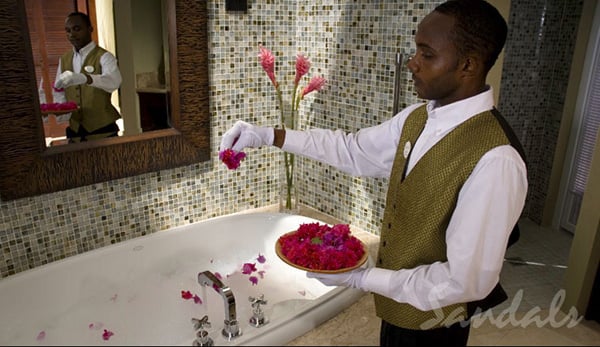 I sell Sandals Personal Butler Service to my clients whenever possible because it is an unimaginably supreme standard of service and luxury, where your every need is anticipated.
Look for Part 2 of this series on Sandals Personal Butler service - an interview with a recent guest who chose a suite with a butler at Sandals La Toc.
Or, if you already know your next vacation should include Personal Butler Service,