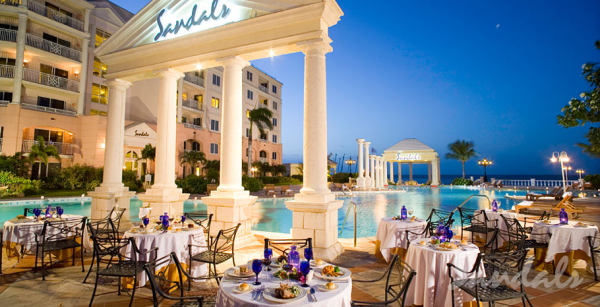 Sandals Royal Bahamian has been voted "Top Spa Resort" by readers of Conde Nast Traveler, and this resort is considereed to be the most elegant resort in the Bahamas. I've written in previous posts about its European grandeour and old world charm. But with Sandals, always expect more...
Only Sandals gives you two vacations in one: Included with your Sandals Royal Bahamian romantic getaway is an exotic escape to Sandals Cay romantic offshore island. In addition to all of the amenities and activities offered on the main resort, you won't want to miss what Sandals Cay adds to your honeymoon or romantic getaway: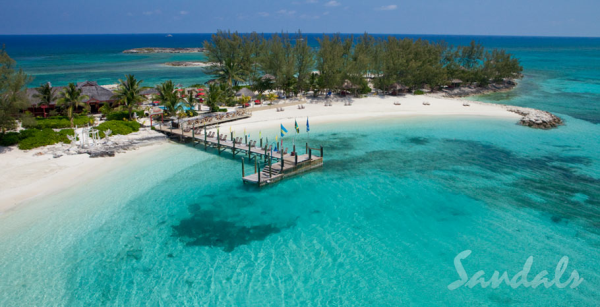 Transportation
Sandals operates a private water taxi between the mainland and the offshore island. In less than 10 minutes, you will arrive on your private island to a boardwalk leading to a gorgeous expanse of alabaster sand. Or travel on your own by kayak or sailboat.
Beaches
Yes, two. Each side of the island boasts a white sand beach, an amazing view and plenty of spots for two to enjoy the sun and eachother's company. The view from the front of the island - the arrival side - looks back to the main resort. The water between the island and the resort's main beach is relatively shallow and many shades of turquoise. Chaise lounge chairs dot the sand in pairs, and beach service delivers cocktails from the bar. The beach on the back side of the island offers calm, shallow water that is good for swimming or even and improptude snorkeling experience.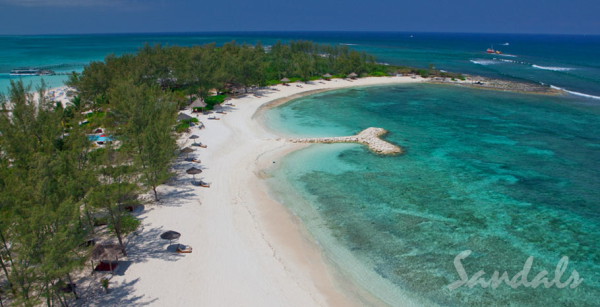 Fishing
You won't find this in any of the Sandals official publications, but don't worry. Sandals loves it when guests make their resorts a home away from home. The edges and ends of the island are rocky, and the water is shallow. The fishermen will know this is perfect for a little flyfishing. Flyfishing for bonefish in the Bahamas is considered some of the best flyfishing in the world. Now, I'm not saying that Sandals Cay is among the world's top flyfishing locations, but it is perfect for the laid-back, selfpaced fisherman just enjoying a relaxing vacation on the water.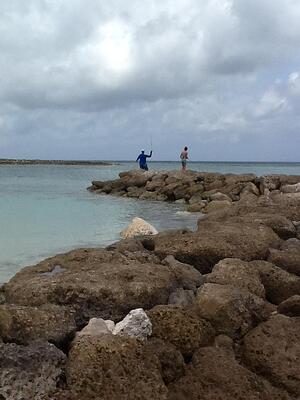 I took this picture of some guests flyfishing during our last trip.
Offshore Island Beach Club
A lively, social pool is surrounded by oversized round lounge chairs for two. Enjoy the carefree swim-up bar or float your cares away in the soothing spa bath. Order a refreshingly tropical cocktail from the swim-up bar where a smiling bartender will probably already know you by name.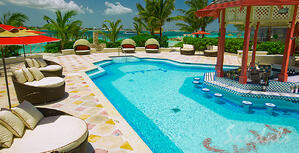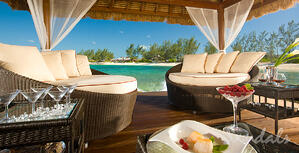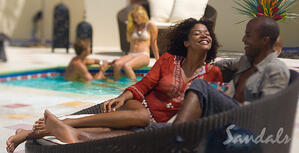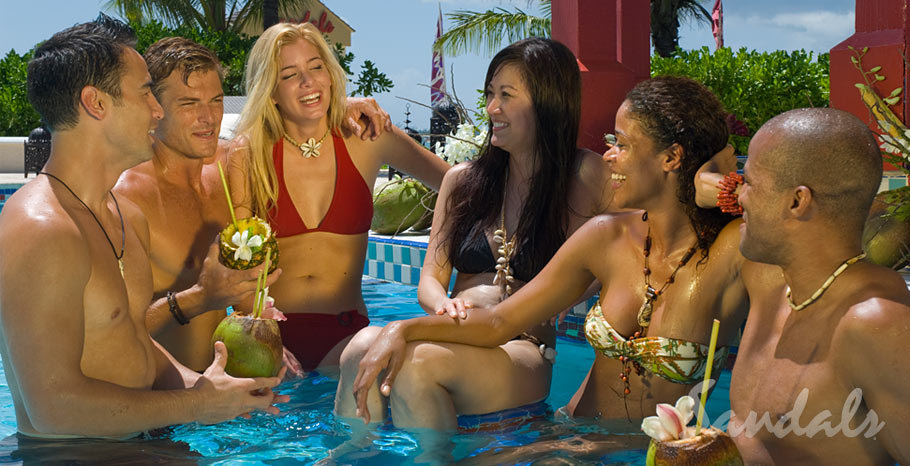 Red Lane Spa Beside the Shore
Red Lane® Spa transforms European spa regimens with island flair. And Red Lane Escape takes these unique treatments to Sandals Cay and imbues them even more with the unique island style that sets Red Lane apart from every other spa in the world. Every massage table is positioned along a secluded section of beach so you'll also be soothed by the sound of melodious waves. Whether a heart rock massage on a sea raft or a salt scrub on the beach, a Red Lane Escape is the beginning of a very special path to renewal.

Stew Fish
Travel to Sandals Cay for a real taste of the Bahamas. Take in the vivid blue of the water and the symphony of ocean waves breaking on white sand just beyond the open walls of this authentic Caribbean restaurant. Satisfy your longing for the freshest seafood perfectly accompanied by a chilled, golden chardonnay. Stew Fish serves lighter lunch until 3:00pm, closes and then re-opens for elegant, romantic fine Caribbean dinner. Reservations are required for dinner, so be sure to make them as soon as you arrive on resort.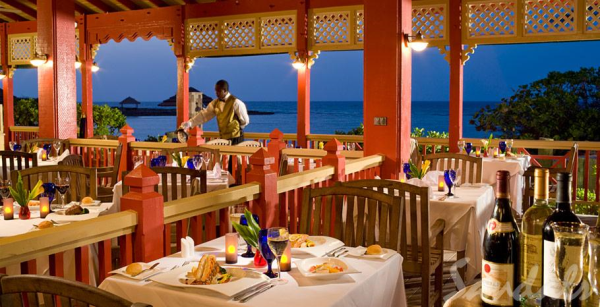 Chic Nights
The evening doesn't end with dinner at Sandals Cay. After sunset, your private island transforms into a lively nighttime gathering place with tiki torches flickering across tented chaises and private beachside cabanas while blazing fire pits light up the starry night.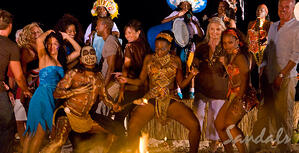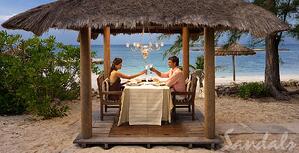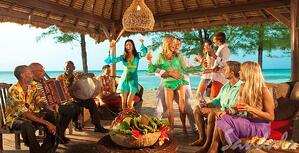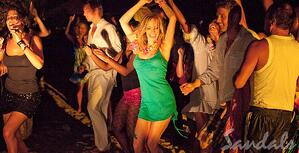 Whether you are planning a romantic honeymoon or 25th anniversary trip, a relaxing Caribbean spa getaway, or a lively couples retreat with friends, the Sandals Royal Bahamian two-in-one vacation is really an exciting way to experience the Bahamas. We would love to help you plan your romantic Caribbean vacation. There is never any charge for our services. Click below to learn more about how I can take care of all of the details for you.
Or you may prefer to join one of our upcoming webinars to learn more about the Sandals All Inclusive Resorts. Click here to register for a free webinar.