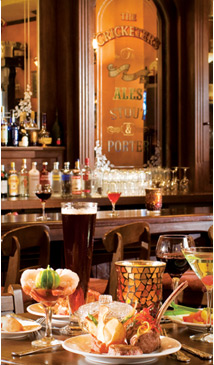 [Each Sandals Resort offers multiple restaurants, fine dining and dine anytime options. The Sandals Resorts brand includes more than 35 different signature restaurants offering Italian cuisine, British pub food, varied Asian selections, fine French cuisine, and authentic Caribbean fare as well as seaside dining. And it is all included in your Sandals vacation package. This is the third installment in a seven-part blog series. Find links to the rest of the series at the bottom of this entry.]
Prepare to be charmed by the lively atmosphere and spirits of the Olde Country. Admire the authentic décor that makes up Sandals entertaining British pubs including bars with brass railing, carved ceilings and solid wood floors. Some of the watering holes were even brought piece-by-piece from the motherland. Known for tasty grub and good times, these taverns offer traditional pub fare including savory Shepherd's Pie and crispy Fish 'n Chips. Always lively, Wobbly Peacock, Cricketer's, Drunken Duck and Olde London Pub serve a diverse selection of premium brand drinks, imported beers and drafts.
Sandals Signature British Pubs:

Presented below is a couple of the Sandals Resorts signature British Pubs and a few examples from the menus of each: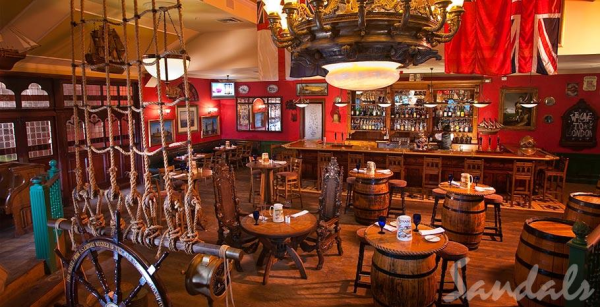 Olde London Pub (Sandals Grande St. Lucian, St. Lucia) pays homage to world famous British pubs. Down a pint of draft beer as you tuck into British gastro-pub fare. With traditional decor like antique mirrors, clipper-ship wall paper and carved bar with brass railings sent over, piece-by-piece, from an actual old London pub, you'll feel as if you've ventured across the Atlantic and entered into another reality completely.

Starters
Seared Tuna Loin
Crab and coriander beignets, lime syrup, cantaloupe melon
Marinated Mini Beef Kebabs
Julienned romaine lettuce, sweet chili sauce
Grilled Signatures
Earth & Turf
Grilled aged strip loin of beef, chips, red wine jus
The Londoner Burger
Prime beef patty, chargrilled, toasted bun, aged chaddar, with chips
Mains
Fish and Chips
Hand battered catch of the day, beer batter, tartar sauce, chips
Slow Cooked Duck Leg
Parsley-potato mash, braised red cabbage with balsamic and apples, thyme jus
Cottage Pie
Ground beef, begetables, with potato mash, oven baked
Sweets
Banoffee Pie
Caramelized banana pie, whipped cream
White Chocolate Cheesecake
with red berry puree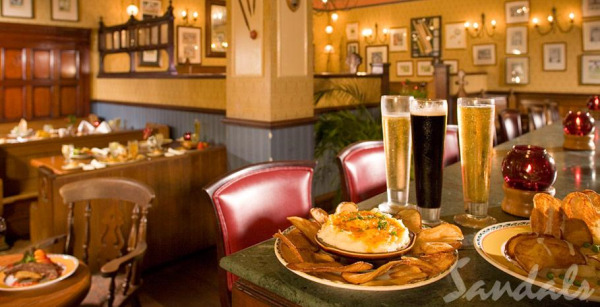 The Cricketer's Pub (Sandals Royal Bahamian, Nassau, Bahamas) Take a tour of England's finest pubs from the warmth of the Caribbean. Enjoy old favorites such as shepherd's pie, bangers and mash smothered in rich gravy, and other traditional pub food in a jovial British atmosphere. Tap your feet to the music as you enjoy a "sweet" and wash it all down with a pint or two late into the night.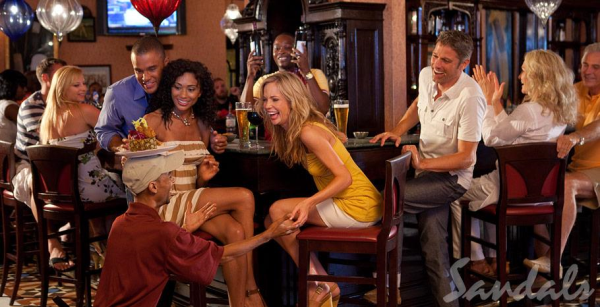 Starters
Cheesy Crisps
Potato Crisps with a Warm Blue Cheese Fondue
Pub Wings
Your choice of Hot or Dry and served with a Blue Cheese
Dip, Carrot and Celery sticks
Pub Favourites
Shepherd's Pie
Beef, Lamb & Vegetables topped with Mashed Potato & Cheddar Cheese
Bangers & Mash
Plump Sausages served with Mashed Potato & Homemade Gravy
Desserts
Apple Crumble
Served Warm with Vanilla Sauce
Sticky Toffee Pudding
Served warm with a Toffee Sauce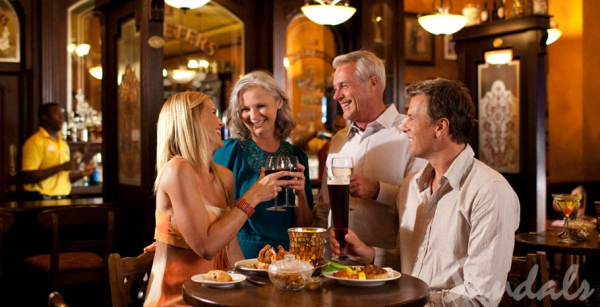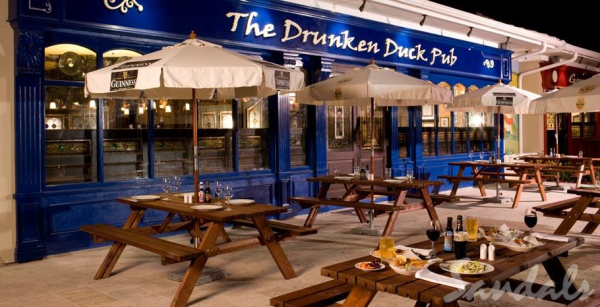 In this seven-part blog series, we will take a look at several of the Sandals signature restaurants and their exemplary menus. Don't miss:
Sandals Resorts Dining: Discover Italian Regional Cuisine
Sandals Resorts Dining: Discover Olde Country British Pub
Sandals Resorts Dining: Discover Unique Asian Fusion
Sandals Resorts Dining: Discover Fine French Cuisine
Sandals Resorts Dining: Discover Authentic Caribbean Fare and Seaside Dining (coming soon)
Client Review: Sandals Resorts Dining (coming soon)
Whether you are planning a Caribbean honeymoon, destination wedding, 25th wedding anniversary or you're just a beach-loving foodie, let me help you select the right Sandals resort for your vacation style. There is never any charge for my services. Click below to request your one-on-one vacation consultation or register to attend our next Sandals webinar.