What is the Sandals Loyalty Program?
All About Sandals Select Rewards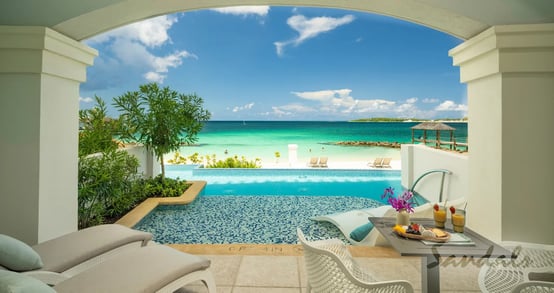 What is the Sandals Select Rewards?
Sandals Resorts and Beaches Resorts have a program called Sandals Select Rewards, and it offers discounts and benefits.
Points are earned based on the price of your resort stay. The higher your Sandals Select Tier the more points you earn per dollar. This is not a membership fee. Be sure that every reservation you make at Sandals Resorts has your Sandals Select Rewards Number attached to it.
Sandals Loyalty Program
This program allows you to get up to 12% extra off the price when booking while at the resort property. Good news we can still be your travel agent for future travels after booking on resort property.
My goal as your Travel Agent is to be of service and to save you money. You may wish to visit the Loyalty & Travel desk during your stay. They offer promotional discounts that are generally 10-12% off the best rates available. These promotions are only available to book while you are a guest on property. Booking another trip while at the resort is simply a way for you to receive an additional discount that I am not able to offer you. Please keep in mind that Sandals and Beaches resorts ARE NOT affiliated with any type of timeshare... So this is not a timeshare seminar.
If you would like more information on this program or have any questions please reach out to me.
Sandals Select Rewards members include membership only sales and promotions. Also this group includes Sandals Select Dinners and up to 20% off your Red Lane Spa Services and more... Request your Complimentary Vacation Consultation.
Want to transfer your Loyalty and Travel Booking to us? Complete the form below and we will be in touch.