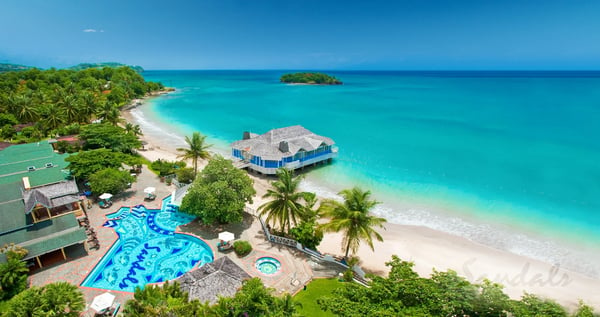 Sandals Halcyon in St. Lucia is one of the more sophisticated of the Sandals Resorts. I love this resort for relaxing and privacy. Check out this video about the resort and then read on for more detail.
St. Lucia is a very lush and tropical island in the Eastern Caribbean. England and France fought for nearly two hundred years over beautiful St. Lucia. This dazzling Caribbean wonderland is a fountain of natural treasures - the fiery passions of an ancient volcano, the richness of a national rainforest, and the soothing waters of the glistening bay and sea.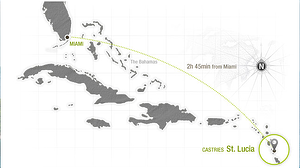 The island of St. Lucia has two airports. The larger Hewanorra International Airport (UVF) is approximately 90 minute drive from the three Sandals Resorts. The smaller George F. Charles Airport (SLU) is approximately 10-30 minute drive to the Sandals Resorts. Most clients fly into the larger, International airport. So climb aboard your air-conditioned bus and enjoy views of the island from your included round trip transfer.
St. Lucia - Hewanorra Airport
Sandals Resorts boasts an exclusive Arrivals Lounge at the Hewanorra Airport in St. Lucia. The lounge has interior seating for 50 guests. Guests are welcomed into the spacious (1,800 sq. ft.), comfortable, air-conditioned Lounge after clearing Immigration and Customs, where they are offered a choice of rum punch, water, coffee tea and fruit punch. There are also bathroom facilities and guests can relax in the Lounge by watching one of two 50" flat screen televisions while waiting for their bus transfer.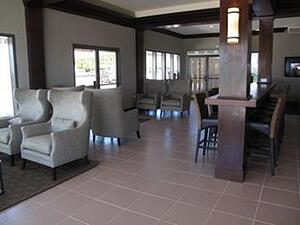 Sandals Halcyon is recognized as the true garden of Eden by a tranquil sea. Every inch of this Caribbean all-inclusive resort speaks the language of love and guests can choose from six palate pleasing Global Gourmet® restaurants and seven creative bar concepts. Golf lovers will enjoy free greens fees and complimentary transfers at our two challenging golf courses.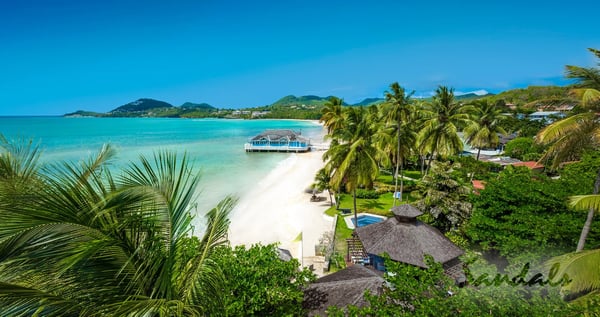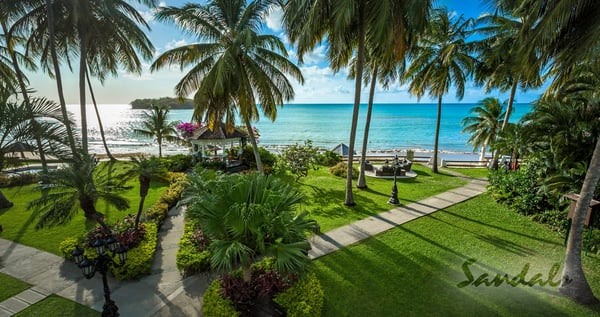 Why Choose this Resort?
If you like to be immersed in glamour in a setting that is as posh as a paradise movie set, you will love Sandals Halcyon for your St. Lucia and spa vacation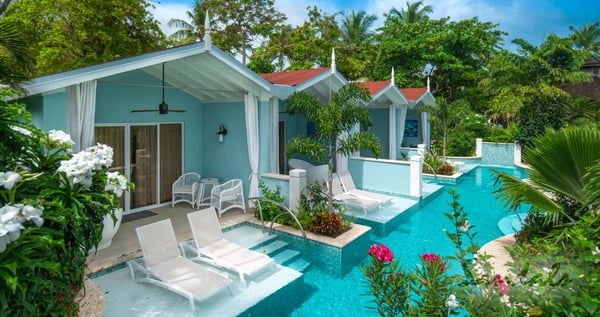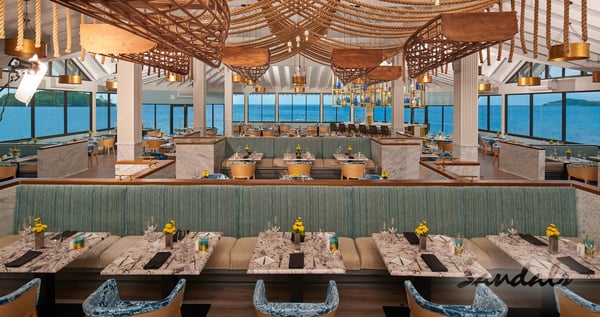 Resort Highlights
Suites & Rondovals
Exquisite Honeymoon suites with private plunge pools
Golf course, which offers complimentary green fees
Three magnificent freshwater pools, suites with private plunge pools and suites with swim- up pools
Free WiFi for all guests in room and all common areas
27 Dining options with the Stay at one play at three exchange privileges
A magnificent Red Lane Signature Spa (spa services are at an additional cost)
Full exchange privileges with the nearby Sandals Regency La Toc and the Sandals Grande St. Lucian Beach Resort & Spa, which are approximately a 15-25 minute drive away. Complimentary transportation between these three Sandals resorts is provided.
Room Features
Sandals Halcyon Beach St. Lucia, Castries, Saint Lucia
Joli Beachfront Walkout Butler Suite w/ Private Pool
Located on the ground floor, discover the enchanting beauty of St. Lucia on these oceanfront Butler suites. Lay in the sun's rays on a spacious walkout patio and private pool. Take a dip into your soaking tub or walk to the beach that's just a few steps away down the paved walkway.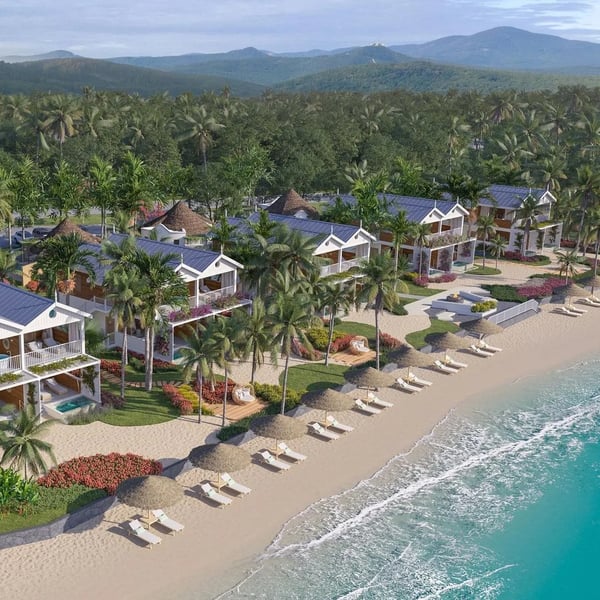 Sandals Exclusive Personal Butler Service
Your wish is our command. With the uncompromising attention of a personal butler trained to the highest standards by the elite Guild of Professional English Butlers, you will be pampered throughout your stay in extraordinary ways. From unpacking and packing your luggage, attending to your wardrobe, serving a glorious breakfast on your terrace, and many more surprises, a Sandals Suite complete with your own personal butler, is the ultimate indulgence. More on Personal Butler Service here.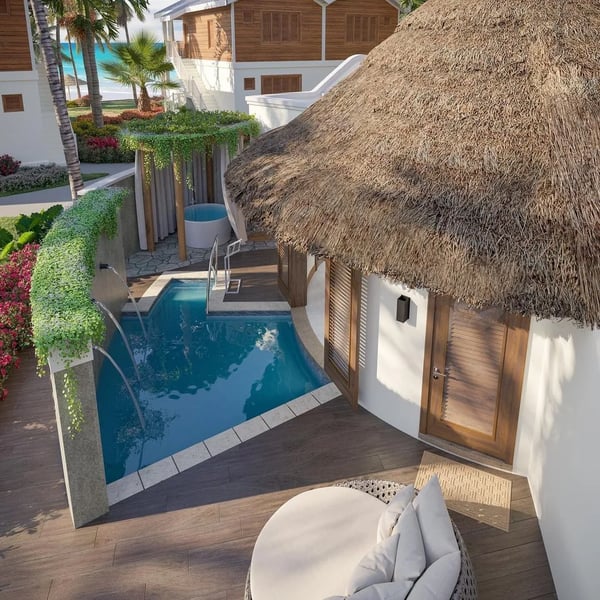 Sandals Halcyon Beach St. Lucia, Castries, Saint Lucia
Koko Rondoval Butler Villa w/Private Pool
These private Rondovals were inspired by the majestic volcanos on the island. With deep wooden tones and pops of green, this modern suite has luxuries like a Tranquility Soaking Tub under a verdant pergola, a secluded plunge pool with a privacy wall and an outdoor shower all to yourself.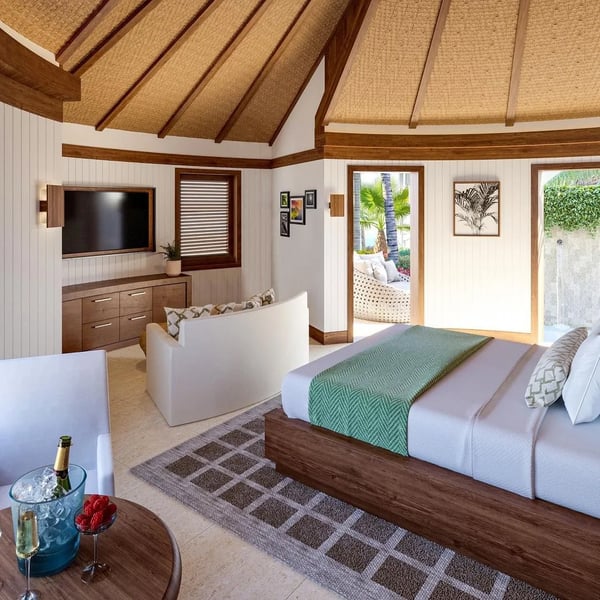 More on this Destination
Visa & Passport Requirements
All travelers will require a valid passport. No visa requirements when traveling an a passport issues by the United State. Please check for any other necessary visa or documentation requirements.
Average Temperatures
Caribbean temperatures are warm year-round. Daytime average: 82°F, 28°C. Nighttime average: 72°F, 22°C.
Dress Code
Resort casual by day, resort elegant by night. So while the sun is up, your shorts, tank tops, swim suits, short-sleeved shirts, sundresses and light slacks are the perfect attire. As the sun sets and you set out to enjoy the evening, proper attire is required (although elegant dress shorts are permitted in some restaurants).
Safe Deposit Boxes
Safe deposit boxes are included in every room. Guests with jewelry and/or cash are advised to store all valuables in safe deposit boxes as Sandals cannot be held responsible
WI-FI Coverage and Internet Access
Most public areas of the resort offer wireless Internet access. So do many of the rooms. All guest rooms are wired with an in-room Ethernet jack for Internet access. Simply connect to the network and charge the service to your room.
Scuba Diving
Top-of-the-line equipment for scuba diving is included for certified divers; however, you're welcome to bring your own. You must remember your diver certification cards to enjoy full diving privileges. If you have any contra-indications to diving you must have a doctor complete and sign the physician section on the medical questionnaire form before you will be allowed to dive at any of our resorts.
Late Departures
If your plane leaves in the afternoon or is delayed, you're welcome to enjoy the amenities at Sandals Regency La Toc St. Lucia.
Tips and Gratuities
Tips and gratuities are strictly prohibited for all staff except personal Butlers & Spa Therapists. In the event you wish to tip your Butler or Spa Therapist, it will be greatly appreciated but under no circumstance will a tip be required or solicited.
Private Car Service
Private Car service from St. Lucia's Hewanorra Airport to Sandals La Toc is available at an additional cost. Just ask me!
See more blog articles about Sandals La Toc.
Or click below to request a complimentary vacation consultation with The Sand Lady: