Sandals Personal Butler Service is the ultimate experience in service and luxury. But don't just take it from the travel agent! To help you understand the benefits of choosing a suite with butler service, I've interviewed Janet, a recent guest of The Sandals Lady who chose a butler suite at Sandals La Toc in St. Lucia.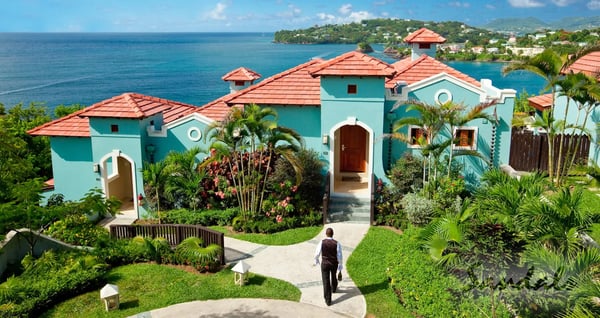 Janet and Michael's very special butler suite was on the bluff side of the resort. You can also see the beach side of this beautiful resort in the background above.
How did Sandals La Toc compare to other resorts at which you have stayed?
The entire facility was beautiful. Everything was spotlessly clean, and they were improving things (painting, etc.) that I couldn't tell needed to be improved! We've never stayed in an all inclusive resort before, but I can't imagine anything being any nicer. Everyone, and I mean literally everyone, was incredibly friendly and helpful. They seem to have thought of everything.

What was your favorite feature of Sandals La Toc?
We loved our suite and the view from our balcony, and we loved having the butlers. I wouldn't want to give up either of those!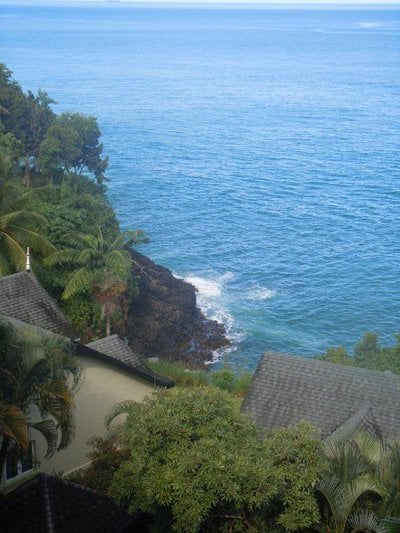 Why did you choose a room with Personal Butler Service?
That was based on Robbie's recommendation. I'm not sure we would have chosen to do that if she hadn't given us a good idea of what it would be like. My initial reaction to hearing about it was something along the lines of, "Oh, we'd be embarrassed to ask for things, and I don't think we'll really use their services." She assured us, by giving us examples of what the service was like, that we would be comfortable with it, and she was right.

What was your Butler's name?
Our butlers were Tana and Gilbert, and they were both great.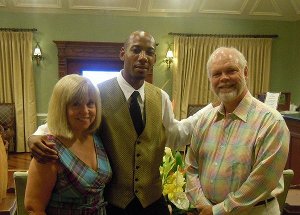 What preparations did your Butler make on your behalf before your arrival?
When we arrived, we already had reservations for several restaurants. We had a fully stocked bar, along with chilled wine and champagne, waiting in the room. We also had a small cheese tray from Sandals, and a fruit plate from The Sandals Lady. Tana spent a good bit of time with us, filling us in on all the amenities of the resort, and all the services she and Gilbert would provide while we were there.

Did your Butler greet you when you arrived?
Yes. We used a private car from the airport, and our driver mistakenly took us to the regular check-in lobby, rather than the butler check-in. The minute they opened the trunk and saw the special tags on our luggage, they whisked us back into the car, assuring us, to quote the bellman, that "we were on our way to heaven". This allowed us to see another advantage of butler service. At the regular check-in, we would have been behind several couples who were unloading from a van that had pulled in just ahead of us. At the butler check-in, there was no one ahead of us, and we barely had time to take a sip of the rum punch they gave us before we were on our way to our suite. Tana was there to take us to our room, spend some time with us, and then she went back down and brought our luggage up to the suite.

How did your Butler make your time on resort more relaxing or romantic?
It was wonderful having our chairs reserved for us every day at the pool. After the first day, we even told them where we would like to be, and they were right there. They reserved them with towels (sometimes shaped like swans) and our room number in flowers. They made dining reservations for us, and they brought us drinks and snacks at the pool, regardless of whether or not we asked for them. They had chilled champagne in our room every night, and twice we came in after dinner to enormous bubble baths. Most evenings we even had flower petals in various designs on the bed! They also made sure we didn't miss some of the special occasions at the resort. For example, we would have missed the Chocolate Buffet if they hadn't told us about it, and that would have been a shame!

What did you enjoy most about having a Butler?
May I say that we liked everything about having a butler?

Would you recommend a room with Personal Butler Service to others?
Absolutely! In our opinion, it is essential - we would not consider going without it.

Is there anything else you'd like to share about your experience at Sandals La Toc?
I do have one further example of how really special our butler service was: one evening, after a day at the beach and pool, we came back to the room and I went straight to sleep. We had reservations that evening for Pitons, which was one of our favorite restaurants at the resort, and we were looking forward to going there again. As the time for our reservation drew closer, Michael called Gilbert and told him we would need to cancel the reservation, and would just have to have room service for dinner. Gilbert brought us menus from PItons, took our order, and delivered the full meal to our suite for us. It would never have occurred to us to ask him to do this, and we thought this was far above and beyond the call of duty.

Beyond that, I will add that for a relaxing, renewing vacation, Sandals La Toc was an absolutely wonderful choice. It would be nice to try some of the other Sandals resorts, but we might not be able to take that chance!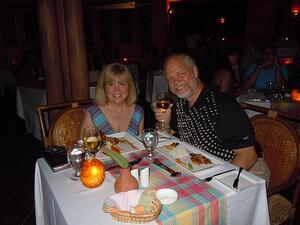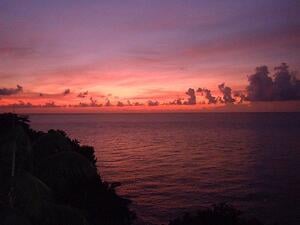 Above: Janet and Michael at their favorite restaurant on Sandals La Toc, The Pitons; and a sunset view from their suite.
Summarize your vacation in 3 words.
Hard to do, but relaxing, renewing, and luxurious are what come to mind.
Thank you, Janet and Michael for sharing your vacation with us! Look for Part 3 of our series on Sandals Personal Butler Service. You deserve it!
Make sure you didn't miss Part 1 of this series!