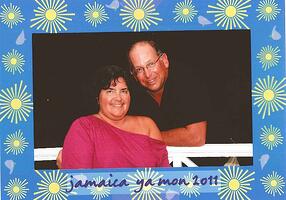 Neal Green - along with his wife Susan - owns All Occasion Catering, Knoxville's premier catering service. Neal also serves on the International Caterers Association's Board of Directors.
We recently sent Neal and Susan to Sandals Royal Plantation to rest after a very busy holiday season and recharge before the hectic wedding season began. Here, we interview Chef Green to get his impressions of the resort and Sandals dining experience in Ocho Rios.
Sandals Royal Plantation is a small, boutique resort with only 74 suites. What did you think about the size of this resort?
Well, it may be small, but it is also a member of the prestigious Leading Small Hotels of the World® for a reason. For us, the size of this resort is absolutely perfect. The service was very personalized, and Sandals Personal Butler Service was wonderful and not to be missed! It could not have been better. Regarding the size of the resort, I was most impressed with the interaction I had with other executive-type guests. We made new friends, and really enjoyed getting to know some very interesting people.
What was your overall impression of Sandals dining experience?
It was great! The food was very good and diverse. It is important to remember where you are, though - especially at dinner time. Here, dinner is a two-and-a-half hour four or five-course gormet meal. Truely fine dining. Of course, if you're just not in the mood, there is always a grill option as well.
Where did you have your most memorable meal at Sandals Royal Plantation?
We had dinner at Le Papillon one night. It is a very elegant, French-inspired restaraunt. I had the filet of beef and my wife had the lobster tail. It was all very fresh, and I was impressed with the portion sizes as well. Later in our trip, I surprised Susan and had our butler arrange a private candle light dinner under the stars on the pier overlooking the ocean. The food during this dinner also came from Le Papillon, and it was very good as well.
[There are two Sandals resorts in the Ocho Rios area of Jamaica - Sandals Royal Plantation, where Neal and Susan stayed, and Sandals Grande Riviera. Guests of Sandals Royal Plantation have full access to all ammenities and activities at Sandals Grande Riviera. Transportation is also included. While there are four dining options at Sandals Royal Plantation, this program expands your dining options to include the 15 options at Sandals Grande Riviera as well.]
Did you take advantage of Sandals Dine Around Ocho Rios program?
Yes, several times. We enjoyed meals at Kimono's Japanese Teppanyaki Restaurant, Soy sushi bar, The Mariner's Beach Grill, and Dino's Pizzeria. We did not have a dissapointing meal. Our favorites at Sandals Grande Riviera were China Doll and Manor. China Doll is a very unique, exotic restaurant serving diner and decorated with rich silks in red and gold. The food here was amazing. Their menu offers five courses of selections from all over the Orient. I would recommend the potstikers and sesame crusted snapper filet. Manor is a gorgeous outdoor restaurant serving a la carte diner by the pool. This is a more laid back dinner with some suprisingly sumptious Caribbean entres. We thought that the Dine Around program was the "icing on the cake" for our stay at Sandals Royal Plantation. Although we had fabulous meals at our resort, I would highly recommend guests take advantage of what Sandals Grande Riviera has to offer as well. I am really impressed with the dining options Sandals offers in this area of Jamaica.
Well, I don't need to ask if you'll go back to Sandals Royal Plantation. We've already taken care of that and have you booked for 11 nights next year!
Yes, we're already looking forward to a longer stay this time and reconnecting with some of the friends we made during our stay this year.

What are the three words you would use to describe your dining experience?
Very well done.
[For more on Sandals Royal Plantation, see our recent blog on that resort]