[This is the forth entry in a 4-part blog series on the Sandals WeddingMoon®. Previously, I talked about planning steps for "Before the Ceremony," designing the ceremony and reception in "Your Wedding, Your Style," and what to expect on "The Wedding Day." Here I will discuss your Sandals Honeymoon. This blog series is intended to give a general overview of the many options Sandals offers through the WeddingMoon® product and show how a Sandals or Beaches all inclusive destination wedding can fit most any bride's style and any budget. It is not intended to be a complete guide to planning your destination wedding. That's where I come in! So at any point, please click the Plan My Wedding link on this web page to send me a note and request your complimentary all inclusive destination wedding consultation.]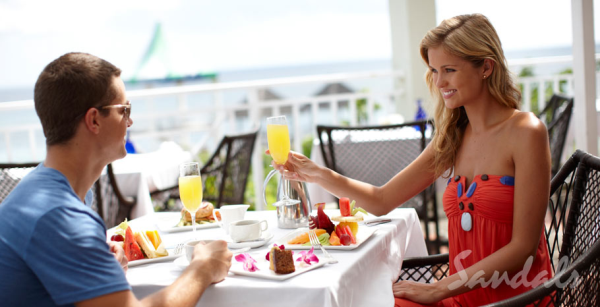 The Honeymoon

All Inclusive
The Sandals and the Beaches resorts are Luxury All Inclusive resorts. The price of your stay includes airfare; transfers to and from the airport; unlimited gourmet dining; unlimited premium brand liquors, beer, wine and champagne; water sports such as SCUBA, snorkeling, sea kayaking, wind surfing, waterskiing and more; golf; taxes, fees, gratuities and much more.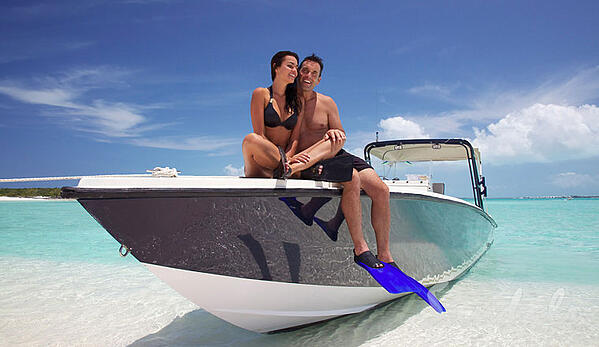 If you are like most couples, wedding planning means lots of thinking about budgets. And by the time the wedding day arrives, you are sick and tired of thinking about money. With an all inclusive honeymoon, you get a "two-for:"
1. When you look at your wedding budget, you know exactly how much the honeymoon will cost. You pay for your honeymoon before you travel (like most any other trip), and after that you do not have to pay for ANYthing else. Compare this to a cruise. When cruising, you have an on-board charge account that all bar drinks (including sodas), tours, gratuities, etc. will be charged to. Before you leave the ship at the end of the cruise, you will be asked to settle that account by paying cash or placing it on a credit card. I've known honeymooners that spent almost as much to get off the boat as they did to get on. You don't want to leave your honeymoon feeling disapointed that you spent more money than you planned to.
2. While you are on your honeymoon, you don't have to think about or discuss money. I tell honeymooners, you certainly don't want to be discussing what you can afford for dinner tonight. You want to be in the moment, making the most of your special time together. Compare this to a honeymoon in Paris. When traveling in a big city, each night you will choose a restaurant for dinner. You want to dine in romantic, gourmet restaurants, and you want him to be able to order a steak for dinner without worrying about how much it will cost.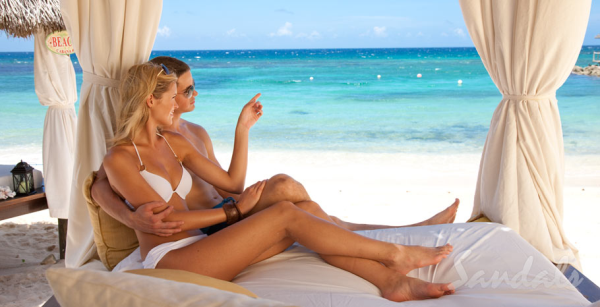 As you've seen throughout this blog series on the Sandals Destination Wedding, the Sandals and Beaches resorts offer a fabulous destination wedding option. But what makes this option absolutely perfect is that they are also the resorts I recommend to honeymooners. I recommend a Sandals honeymoon because first, I am 100% confident my clients will have a honeymoon that exceeds their expectations. And because at Sandals, LOVE is all you need - everything else is included.
Sandals Love Nest Suites
You want your honeymoon to be the most romantic time you have spent together. There should be plenty of time spent relaxing and connecting with each other. A Sandals Love Nest Suite is the perfect setting to ensure your time away together is memorable.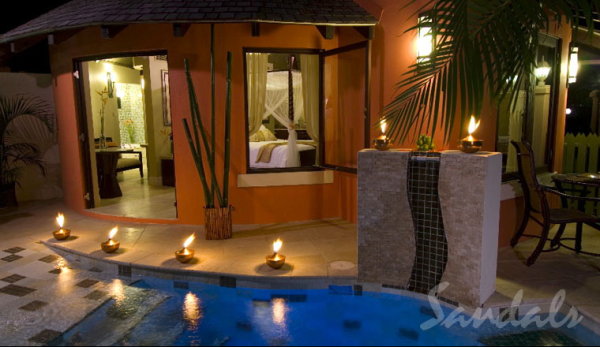 The Love Nest Suites are the most sought after rooms at each Sandals resort, and they boast amenities such as private plunge pools and hot tubs, outdoor grotto showers, expanded marble bathrooms, private balconies and verandas with amazing views of the Caribbean Sea, and of course Sandals exclusive Personal Butler Service.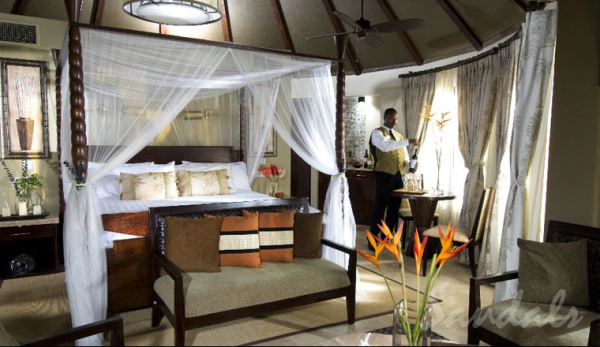 Click here to view some of our favorite Love Nest Suites. (Don't worry. The link will open in a new window so you can easily come back!)

Personal Butler Service
Your honeymoon is a once-in-a-lifetime experience, and you deserve the best of everything. I sell Sandals Personal Butler Service to my honeymooners because it is an unimaginably supreme standard of service and luxury where your every need is anticipated. Sandals Personal Butler Service is unquestionably my personal favorite inclusion that the Sandals resorts offer, and your honeymoon is the perfect time to experience it.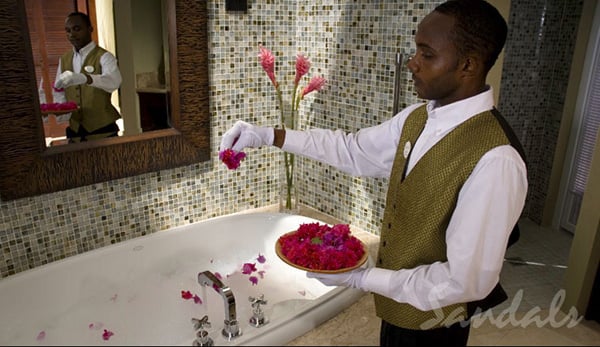 If you're like many of my clients, you're thinking, "I'm not high maintenance. Why would I need a personal butler?" Check out my blog series here to find out why your honeymoon is not complete without Sandals Personal Butler Service. You will NOT regret it.

Even More Romance
So if that wasn't romantic enough for you, or even if your budget just won't allow for a LoveNest Suite or Personal Butler Service, you can add on several extra romantic activities to your Sandals honeymoon.

To my clients who would like to leave the resort and see more of their island where they are staying or who would like a little adventure during their honeymoon, I recommend the off-site tours offered by Sandals sister company Island Routes. With Island Routes you can chose to go zip lining through the jungle, bicycle through a volcano, swim with dolphins, ride horses on the beach, or take a romantic sunset catamaran cruise. You can read more about Island Routes tours here, and once we've booked your trip, I'll take care of booking your tours for you as well.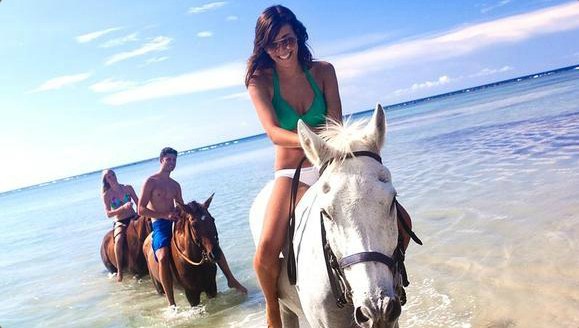 Your Sandals or Beaches honeymoon includes unlimited gourmet dining at as many as 15 restaurants (depending on which at which resort you stay). However, for the couple who wants an extra special dinner celebration one night, I recommend Sandals romantic candlelight dinner for two. Have a sunset dinner under the stars served by a waiter in white gloves, on a table specially decorated with tropical floral arrangements and candle lights. The resorts book a limited number of these each night, so be sure to let me know early that you'd like to add this special event to your honeymoon.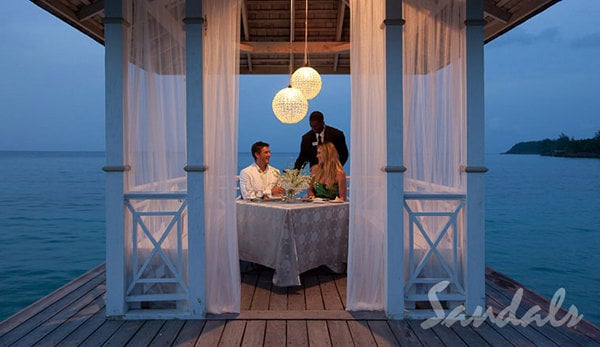 Whether you want more information on planning your Sandals or Beaches WeddingMoon® (destination wedding + honeymoon) or you are interested in a Sandals honeymoon, just click below to request your complimentary planning session.