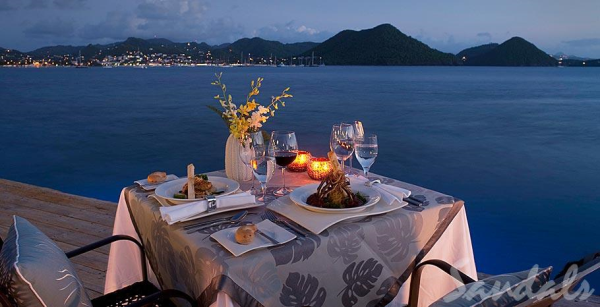 Ok let's just admit it. Most of us want to eat amazing food while we are on vacation. For the few of you who don't, go ahead and look to the right and select a different blog topic to read about. For the ladies out there looking for a romantic vacation that will satisfy your husbands' hearty appetite and your craving for intimate, gourmet date nights, BINGO! Sandals Resorts presents Discovery Dining...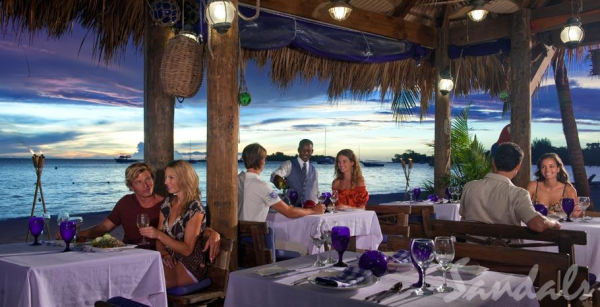 Each Sandals Resort offers multiple restaraunts, fine dining and dine anytime options. The Sandals Resorts brand includes more than 35 different signature restaraunts offering Italian cuisine, British pub food, varied Asian selections, fine French cuisine, and authentic Caribbean fare as well as seaside dining. And it is all included in your Sandals vacation package. If you're the person who is reserved about trying new foods or drinks because you may not like it, Discovery Dining was made for you. When all of the food and drinks you could order are already included in your vacation package, you are free to try everything with no risk! So experiment... you may just find that your new favorite cuisine is Thai food... or you never knew you would fall in love with a shrimp cocktail martini.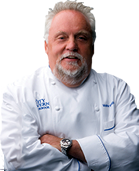 A note from Sandals Culinary Ambassador, four-time Emmy Award winner, Chef Walter Staib:
"I invite you on an epicurean journey that will tantalize your senses and amaze your palate. With Sandals Resorts exclusive Discovery Dining you will indulge in specialties from around the world. Our culinary philosophy involves taking the time to truly enjoy the moment, the aromas and the flavors that surround you - so take your time and savor every bite of our legendary dishes. And with our white-glove butlers and 24-hour room service in select suites, you can dine around the world, and around the clock-all included.
Together a spectacular dish, an intimate conversation, and a romantic setting, add spice to your lives and fill your hearts. Which is why at Sandals Resorts, we take pride in creating unforgettable moments with delectable gourmet experiences. After all, we believe life is meant to be savored."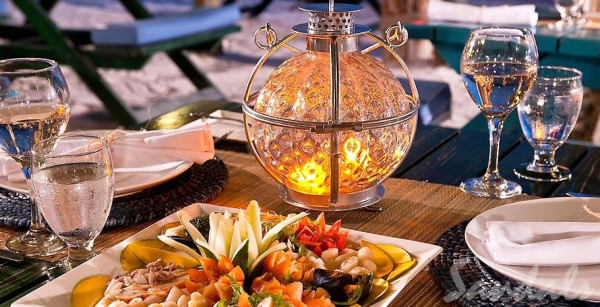 In this seven-part blog series, we will take a look at several of the Sandals signature restaurants and their exemplary menus. Don't miss:
Sandals Resorts Dining: Discover Italian Regional Cuisine
Sandals Resorts Dining: Discover Olde Country British Pub
Sandals Resorts Dining: Discover Unique Asian Fusion
Sandals Resorts Dining: Discover Fine French Cuisine
Sandals Resorts Dining: Discover Authentic Caribbean Fare and Seaside Dining (coming soon)
Client Review: Sandals Resorts Dining (coming soon)
Whether you are planning a Caribbean honeymoon, destination wedding, 25th wedding anniversary or you're just a beach-loving foodie, let me help you select the right Sandals resort for your vacation style. There is never any charge for my services. Click below to request your one-on-one vacation consultation or register to attend our next Sandals webinar.