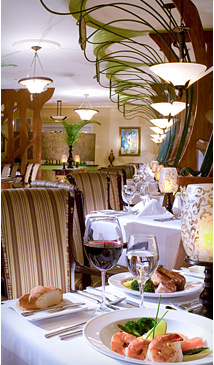 [Each Sandals Resort offers multiple restaurants, fine dining and dine anytime options. The Sandals Resorts brand includes more than 35 different signature restaurants offering Italian cuisine, British pub food, varied Asian selections, fine French cuisine, and authentic Caribbean fare as well as seaside dining. And it is all included in your Sandals vacation package. This is the fifth installment in a seven-part blog series. Find links to the rest of the series at the bottom of this entry.]
French cuisine has evolved extensively over centuries. The national cuisine started forming in the Middle Ages to the influence of the work of skilled chefs and various social and political movements. Over the years the styles of French cuisine have been given different names, and have been modified by various master chefs. The national cuisine developed primarily in the city of Paris with the chefs to French royalty, but eventually it spread throughout the country and was even exported overseas. At Sandals and Beaches Resorts, you'll find some of the finest French dishes in the Western hemisphere.
Sandals Signature French Restaraunts

Presented below is a couple of the Sandals Resorts signature French restaraunts and a few examples from the menus of each: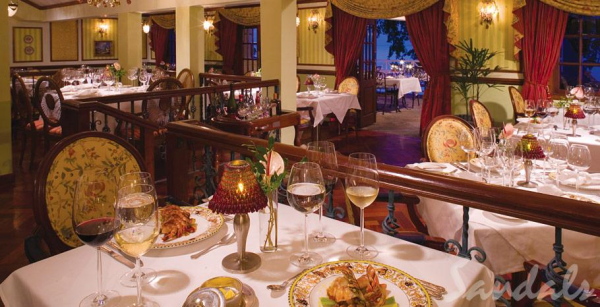 Le Papillon (Sandals Royal Plantation, Jamaica) Feel as if you've wandered into one of Paris' most elegant restaurants. Le Papillon's French-inspired Caribbean cuisine, which mingles the finest of Europe and the incredibly fresh local produce of Jamaica with the classical techniques and venerable traditions of France's finest establishments, takes you on a truly unforgettable culinary tour around the world.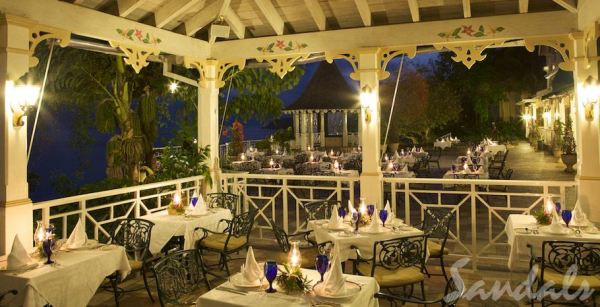 Les Hors D'Oeuvre
"Bonbons" de foie gras, poire au porto
"Candy" Foie gras, pears in porto
Crabe cake et purée de patates douces, mesclun de salade à l'huile pimentée
Crab cake and mashed sweet potatoes, mesclun salad with chilli oil
Cassolette d'escargots de Bourgogne
Casserole Burgundy snails
Soupe glacée avocat-citron vert, tartare tomates, gambas et piment d'Espelette
Chilled soup avocado-lime, tomato tartare, shrimp and Espelette pepper
Les Poissons
Dos de Red Snapper laque au Miel, Polenta aux aux agrumes et Gingembre Frais
Red Snapper back glazed with honey, Polenta with citrus and fresh Ginger
Homard grillé et chutney de tomates aux fruits exotiques, Legumes du Marche
Grilled lobster and tomato chutney with exotic fruits, Vegetable from the Market
Les Viandes
Carré d'agneau en croûte d'herbes
Herb crusted lamb rack
Pièce de Filet boeuf au beurre d'avocat, salsa de mangue et tomates
Piece of tenderloin beef to butter with avocado, mango salsa and tomatoes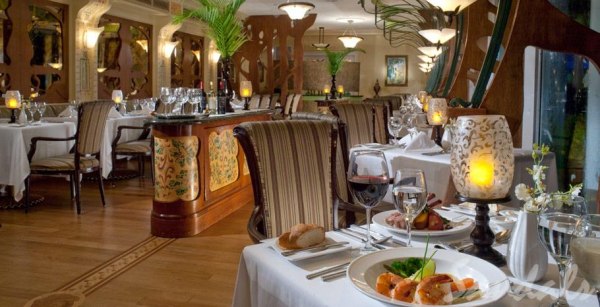 Baccarat (Sandals Royal Bahamian, Nassau, Bahamas) Named after the famous French Crystal manufacturer who created the elegantly curved windowpanes throughout its interior, Baccarat merges the delightful clinking of fine crystal with elegant Art Nouveau decor. Candle lights dance on tables set in stunning bay windows while white-gloved waiters serve award winning French cusine, all overlooking the moonlit pool.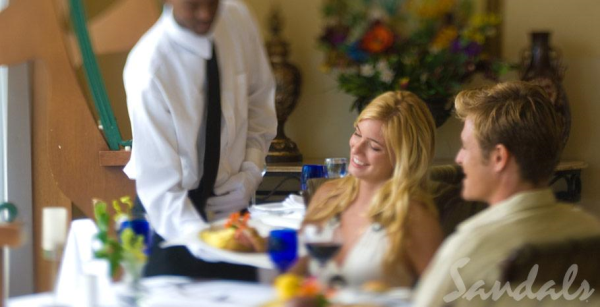 Hors d'Oeuvres - Appetizers
Mille Feuilles de Légumes – Vegetables
Grilled Mushrooms, Creamed Spinach and Pumpkin Mousseline Layered in Puff Pastry, Tomato Orange Coulis
Cocktail aux Fruits de Mer - Seafood
Chilled Marinated Seafood in Season
Les Soupes – Soups
Bisque de Coquillages et Crustacés - Seafood Bisque
Lobster, Clams and Mussels Slowly Simmered in Tomato Cream Infused with Brandy
Consomme "Celestine"
Light Chicken Broth Garnished with Carrot and Crêpe "Julienne"
Les Plats Principaux – Entrées
Margret de Canard a l'Orange – Duck
Duck Breast, Orange Grand Marnier Sauce and Vegetable Julienne
Poisson du Jour – The Catch of the Day
Filet of Fish en Papillote with Mangoes, Steamed Potatoes, Market Vegetables and Creole Salsa
Les Desserts
Crêpe Suzette
Thin French Pancake filled with fresh fruit compote, topped with sweet orange sauce
Crème Brûlée pour les deux
A Traditional Crème Brûlée to share with your loved one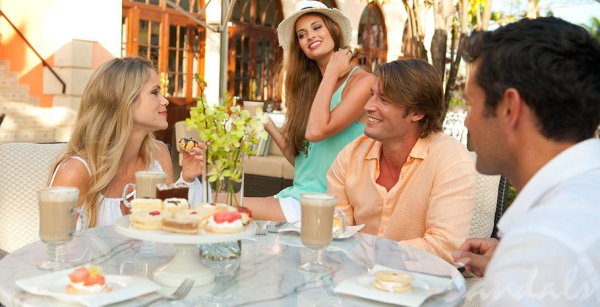 Also worth mentioning is Sandals signature Parisian-style patisserie, Cafe de Paris (Sandals Whitehouse, Sandals Grande Antigua and Sandals Emerald Bay) featuring sinful pastries, crepes, coffees and dessert. After all, everyone works up a sweet tooth sooner or later.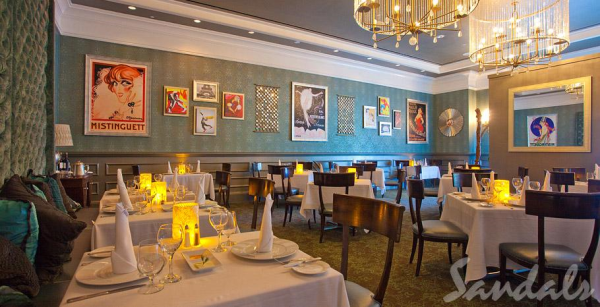 In this seven-part blog series, we will take a look at several of the Sandals signature restaurants and their exemplary menus. Don't miss:
Sandals Resorts Dining: Discover Italian Regional Cuisine
Sandals Resorts Dining: Discover Olde Country British Pub
Sandals Resorts Dining: Discover Unique Asian Fusion
Sandals Resorts Dining: Discover Fine French Cuisine
Sandals Resorts Dining: Discover Authentic Caribbean Fare and Seaside Dining (coming soon)
Client Review: Sandals Resorts Dining (coming soon)
Whether you are planning a Caribbean honeymoon, destination wedding, 25th wedding anniversary or you're just a beach-loving foodie, let me help you select the right Sandals resort for your vacation style. There is never any charge for my services. Click below to request your one-on-one vacation consultation or register to attend our next Sandals webinar.