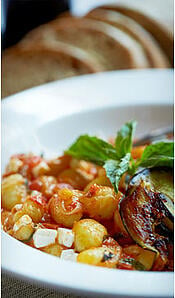 [Each Sandals Resort offers multiple restaurants, fine dining and dine anytime options. The Sandals Resorts brand includes more than 35 different signature restaurants offering Italian cuisine, British pub food, varied Asian selections, fine French cuisine, and authentic Caribbean fare as well as seaside dining. And it is all included in your Sandals vacation package. This is the second installment in a seven-part blog series. Find links to the rest of the series at the bottom of this entry.]
When we think of Italian cuisine, we tend to imagine one singular cuisine representing the entire country. In reality, Italian cuisine is made up of 20 diverse regional cuisines, each with its own unique ingredients. At Sandals resorts, you will find Italian restaurants specializing in cuisine from a specific region of Italy such as Veneto, Emiglia-Romagna, Toscana, Lazio, Campania or Puglia. So, you can enjoy a tour of Italy without ever leaving the Caribbean.
Sandals Signature Italian Restaurants:

Presented below is a couple of the Sandals Resorts signature Italian restaurants and a few examples from the menus of each: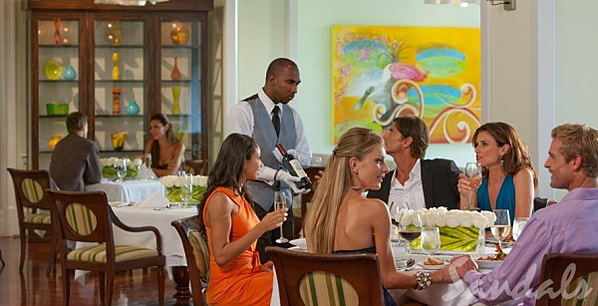 IL CIELO (Sandals Emerald Bay, Bahamas) means Heaven or Paradise in Italian - an apt description of the ultimate dining experience this restaurant offers. Heavenly Tuscan specialties like Osso Buco Brasato and Risotto ai Frutti di Mare are delivered by white-gloved servers in an elegant atmosphere with expansive views of Emerald Bay. After dinner, there's excitement in Il Cielo's Dolce Lounge as expert pastry chefs put on a show making plating up Italian desserts and scooping out generous helpings of Italian gelato.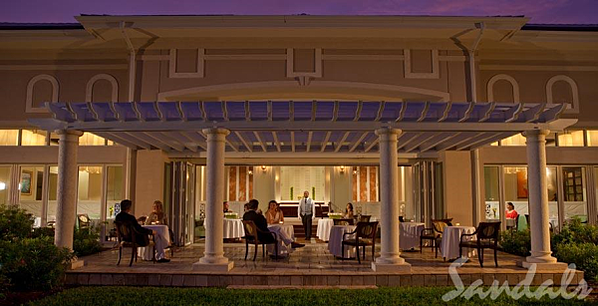 Antipasti
Prosciutto e Melone
Thin slices of cured ham with sliced tropical fruits
Gamberetti & Avocado con Olio d'Oliva al Limone
Shrimp & avocado in pressed lemon olive oil
with romaine lettuce & fresh herbs
Pasta - Risotto
Cappellini alla Carbonara
Thin spaghetti with bacon and black pepper
Risotto ai Fruitti di Mare
Arborio rice cooked with assorted seaford with ricotta cheese
Pesce - Carne
Osso Buco Brasato
Slow cooked veal shank with basil and rocket crushed potato and cannellini beans
Cernia Scottata
Pan-seared Grouper with parmesan and mascarpone mash, tomato and vegetables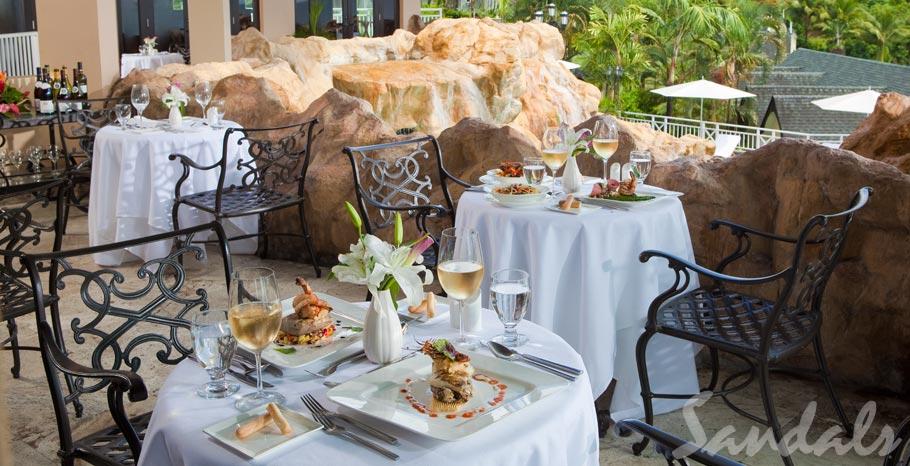 Armando's (Sandals La Toc, St. Lucia) restaurant is named after one of Italy's most celebrated military heroes, Armando Diaz - the general who led the Italian troops in the Battle of Vittorio Veneto, which ended WWI on the Italian front. As payment for his efforts, Benito Mussolini named him Minister of War, and he was promoted to Field Marshal. Upon retirement, in 1924, he was given the honor of Maresciallo d'Italia, Marshal of Italy. In tribute to General Diaz, Armando's restaurant serves specialties from him home region of Campania including the mouthwatering linguine and cams in white wine sauce, "Linguine Alle Vongole."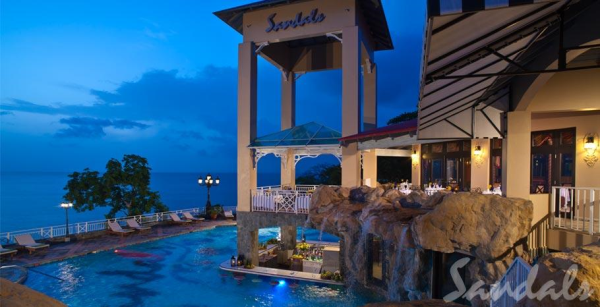 Zuppa
Zuppa Maritata
Italian Wedding soup with meatballs
Pasta Lato
Spaghetti Puttanesca
Spaghetti with anchovies, olives and capers
Nidi di Rondine
Homemade pasta with prosciutto, smoke Gouda, bechamel and
Armando's marinara sauce
Carne
Pollo alla Cacciatore
Chicken stewed with tomatoes, rosemary and white wine
Pesce
Salmone alla Griglia con purea di patate e burro aromatizzato
Grilled salmon served with mashed potatoes, lime flavored butter
and a chardonnay sauce
Risotto
Risotto al Frutti di mare
Classical Italian rice dish with shrimp, mussels and saffron
Dolci
Tiramisu
served with shaved chocolate, cocoa dust, and coffee sauce
Crema Bruciata all'espresso
Espresso flavored creme brulee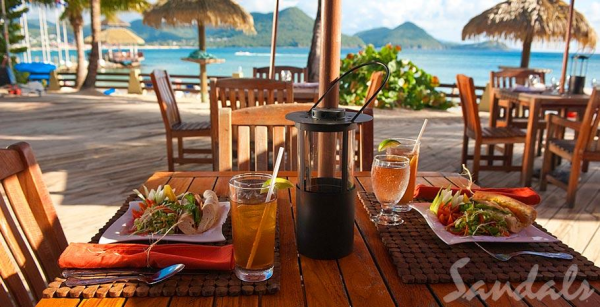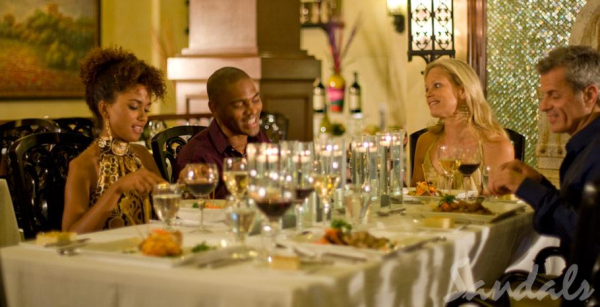 In this seven-part blog series, we will take a look at several of the Sandals signature restaurants and their exemplary menus. Don't miss:
Sandals Resorts Dining: Discover Italian Regional Cuisine
Sandals Resorts Dining: Discover Olde Country British Pub
Sandals Resorts Dining: Discover Unique Asian Fusion
Sandals Resorts Dining: Discover Fine French Cuisine
Sandals Resorts Dining: Discover Authentic Caribbean Fare and Seaside Dining (coming soon)
Client Review: Sandals Resorts Dining (coming soon)
Whether you are planning a Caribbean honeymoon, destination wedding, 25th wedding anniversary or you're just a beach-loving foodie, let me help you select the right Sandals resort for your vacation style. There is never any charge for my services. Click below to request your one-on-one vacation consultation or register to attend our next Sandals webinar.