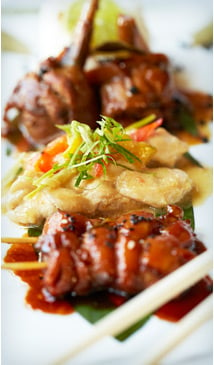 [Each Sandals Resort offers multiple restaurants, fine dining and dine anytime options. The Sandals Resorts brand includes more than 35 different signature restaurants offering Italian cuisine, British pub food, varied Asian selections, fine French cuisine, and authentic Caribbean fare as well as seaside dining. And it is all included in your Sandals vacation package. This is the fourth installment in a seven-part blog series. Find links to the rest of the series at the bottom of this entry.]
Asian cuisines are all about harmony and balance, but each different cuisine accomplishes this in its own singular way. Whether finicky or adventurous, bold or timid, hearty or healthy, there is an Asian cuisine to suit every approach to dining - and Sandals offers them all. In Thai cuisine, achieving the perfect flavor for any dish relies upon a balance of four basic tastes: sour, bitter, sweet and salty. Intricate fruit and vegetable carvings add the finishing touch to Asia's most elaborately decorated plates. Clean, natural, unspiced flavors define Asia's most healthful cuisine, Japanese.

Sandals Signature Asian Restaurants

Presented below is a couple of the Sandals Resorts signature Asian restaraunts and a few examples from the menus of each: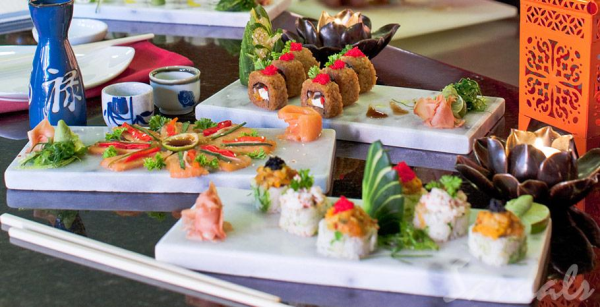 Soy Sushi Bar (Sandals Grande Riviera, Ocho Rios, Jamaica) Tucked Away behind bamboo fronds and adorned with unique oriental décor, Sandals and Beaches Resorts brings a taste of the Far East to the Caribbean. Named after Soy Sauce, a traditional ingredient in the art of Sushi, Soy offers exciting flavors and exotic sushi creations made to order. Skillfully prepared using only the freshest and most delectable ingredients, it's no wonder Soy is such a popular option amongst our guests. fun.
Cocktails
Specialty Cocktails - Sake-Infused Menu
Appetizer
Daily Chef's Special
Soup
Miso Soup
A light soy bean broth with seaweed, tofu and spring onion
Entrees
Nigiri Sushi (2pcs)
| | |
| --- | --- |
| 1. Ebi - Shrimp | 2. Kani - Crab Meat |
| 3. Tako - Octopus | 3. Maguro - Tuna |
| 5. Shake - Salmon | 6. Unagi - Fresh Water Eel |
| 7. Tamago - Egg Omlett | |
Shushi Rolls
(all with cucumber and avocado)
1. Volcano Roll - Shrimp, Eel, Crab, three kinds of sauce
2. Dragon Roll - Shrimp tempura, Eel, Tobiko (Fish roe), two kinds of sauces
3. Rainbow Roll - Crab, Tuna, Salmon, Sesame
4. Highway Roll - Deep fried Spicy Tuna and sepcial sauce
Temaki
Hand Rolls, Once Cone Shaped Piece
1. California - Crab, Avocado and Flying Fish Roe
2. Suzuki - Seabass
3. New York - Shimp and Avocado
Fried Spring Roll (2pcs)
Served with Sweet Chili Sauce
Vegetable
Shrimp
Dessert
Fried Ice Cream
Served on a Pineapple Ring with Pineapple Rum Sauce
Coconut Corn Tart
Served with Caramelized Banana and Cream of Lychee in Ginger Syrup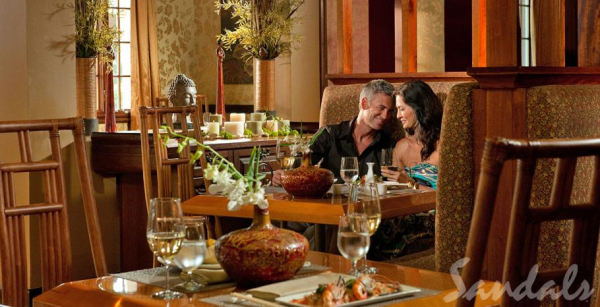 Jasmines (Sandals Whitehouse, Jamaica) Traveling all the way from Laos' village of Thakket, this Asian-inspired Restaurant offers a unique culinary experience that transports you to the exotic locale of Southeast Asia. Taking elements from Thai, Malaysian, Philippine, Southern Indian & Japanese cuisine, Jasmines' famous Pan-Asian dishes bring together a unique blend of flavors and an exotic flair that will keep you coming back for more.
Appetizers
Hot Thai Wings
Marinated spicy chicken wings and plum sauce
cole slaw
Vietnamese Fresh Spring Rolls
Fresh shrimp with mango and cucumber in glass noodle wraps
sweet chili sauce
Wasabi Chicken Salad
Marinated grilled breast of chicken & assorted vegetables
served with wasabi dressing
Main Course
Jasmines' Signature Dish
Asian Chicken Combo Dish
Japanese BBQ Robatayaki chicken thighs, Philipino Adobo chicken legs and Thai Lemon Grass-Coconut poached chicken breast
Pad Thai Noodles
Thailand rice sticky noodles with Shrimp, carrots & scallion
Cantonese Sweet & Sour Pork
Crispy fried tember pork strips with pineapple and peppers
sweet & sour sauce
Desserts
Turon in Ice Cream
Traditional Filipino Dessert
Deep fried ripe banana in spring roll style
Lychee Cheese Cake
Served with Guava-Ginger syrup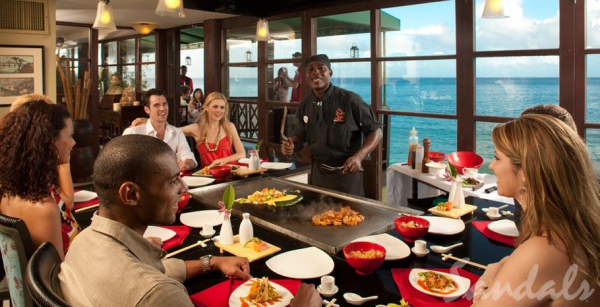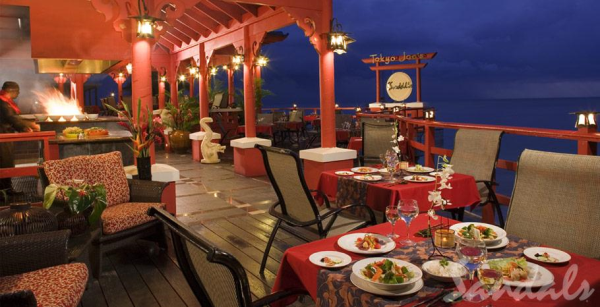 In this seven-part blog series, we will take a look at several of the Sandals signature restaurants and their exemplary menus. Don't miss:
Sandals Resorts Dining: Discover Italian Regional Cuisine
Sandals Resorts Dining: Discover Olde Country British Pub
Sandals Resorts Dining: Discover Unique Asian Fusion
Sandals Resorts Dining: Discover Fine French Cuisine
Sandals Resorts Dining: Discover Authentic Caribbean Fare and Seaside Dining (coming soon)
Client Review: Sandals Resorts Dining (coming soon)
Whether you are planning a Caribbean honeymoon, destination wedding, 25th wedding anniversary or you're just a beach-loving foodie, let me help you select the right Sandals resort for your vacation style. There is never any charge for my services. Click below to request your one-on-one vacation consultation or register to attend our next Sandals webinar.