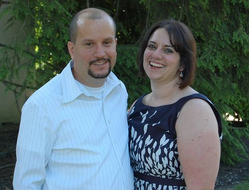 When I first started working with Jessica and Justin, they wanted to plan a honeymoon in Jamaica or St. Lucia. They dreamed of a romantic getaway with a nice mix of relaxation and island adventure, and they wanted a special honeymoon suite. I made a couple recommendations on each island to suit their requirements and explained the major differences between the rooms and resorts that I was suggesting so they could make a final decision.
As sometimes happens, when next I spoke with Jessica, the couple had become slightly overwhelmed by the prospect of planning a traditional, local wedding with lots of family and friends to please. She wanted to know more about the Sandals WeddingMoon®, which is a destination wedding + honeymoon all in one package. I told Jessica that because they were already planning a 6 night honeymoon, they could add the Wedding to the Moon at no additional cost, and I would lead her through each painless step of planning the ceremony and reception. After consulting with Justin, the decision for an intimate island wedding was made, and after a 2 hour lunch date, we had planned their destination wedding and honeymoon at Sandals Regency La Toc in St. Lucia.

I always recommend that honeymooners - and especially those getting married on resort - book one of Sandals Love Nest Suites. These suites are Sandals most romantic, intimate accommodations, and staying in a Love Nest Suite makes for a very special, unique honeymoon experience. Jessica and Justin chose the Sunset Bluff Honeymoon Oceanfront One Bedroom Butler Villa Suite with Private Pool at Sandals Regency La Toc.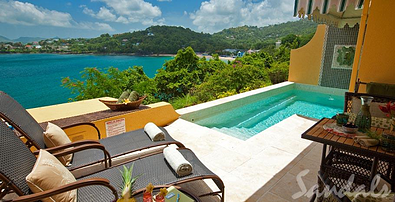 This room boasts one of my all-time favorite views in the Caribbean - enjoyable from your own private plunge pool. Sitting atop Sunset Bluff, this suite has a beautifully decorated separate living room and bedroom with plenty of space. The veranda is large and the view of the ocean and the sunset is stunning. Open the sliding glass doors in your bedroom to enjoy these romantic views right from your four poster king size bed. Stone floors, mahogany furnishings, and vaulted ceilings make these suites cozy and inviting.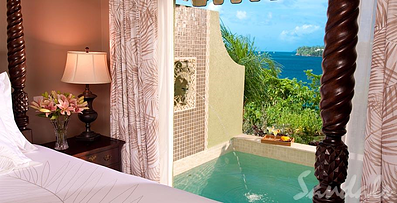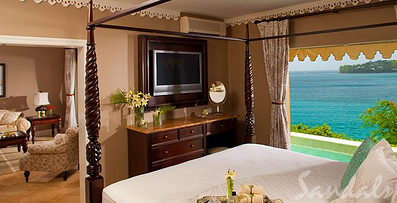 I always make sure my WeddingMoons couples receive VIP treatment. Upon arrival in St. Lucia, Jessica and Justin were driven by a private driver and luxury sedan from the airport to the resort. Their personal butler met their car at the resort and escorted them directly to their honeymoon suite. The next day, they met with their on-resort wedding coordinator who confirmed the details of the wedding ceremony and reception. They had a champagne cake tasting and selected a cake flavor. A local attorney met with them in the resort wedding office to finalize the legal marriage documents. The wedding coordinator took them on a full tour of the resort grounds, and Jessica made the final decision to hold the ceremony in the wedding gazebo overlooking the beach. Then, they were off to relax and play until it was time for their wedding, which was scheduled for 4pm two day later.

Each island does has its own legal documentation and residency requirements for weddings. St. Lucia requires the bride and groom arrive on the island 3 business days before there wedding ceremony. However, as in the case of Jessica and Justin's wedding, the couple may choose to pay a documentation expedition fee in order to get married sooner. But as Jessica would tell you, don't fret about the details! Contact The Sand Lady to take care of all of these things for you. It is my job to know the details and present you with the options.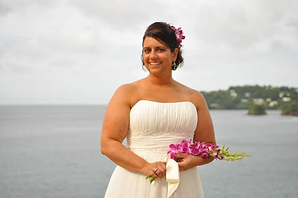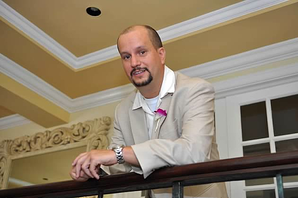 On the wedding day, Jessica had her hair and makeup done in the spa on resort. She said this was a great way to relax before the wedding. Her partial up-do was beautiful, and she was happy to see that the spa used makeup products by MAC. Once her hair and makeup were complete, her female butler Trisha drove her back to the suite to get dressed. Jessica was happy that Trisha was there to help her with her bridal gown. Before the wedding, as they got to know their butler team of Trisha and Sydney, Jessica and Justin decided to ask that they stand as witnesses to their marriage.

Jessica and Justin's wedding theme is the Beautiful Beginnings complimentary wedding ceremony and champagne reception. They also used Sandals in-house photography and videography services.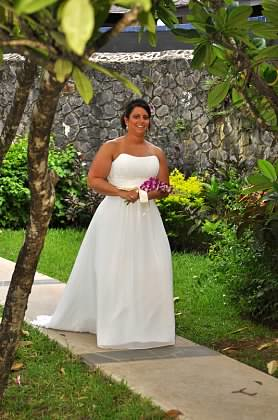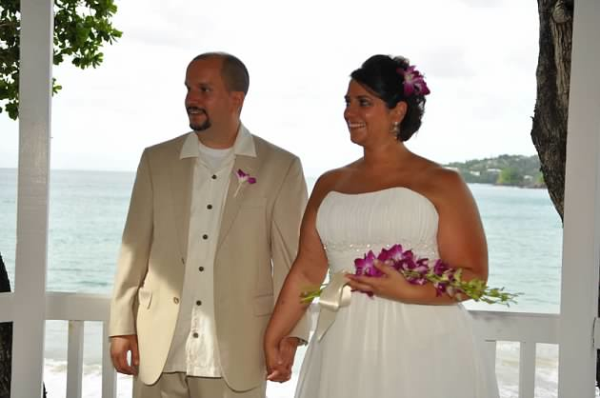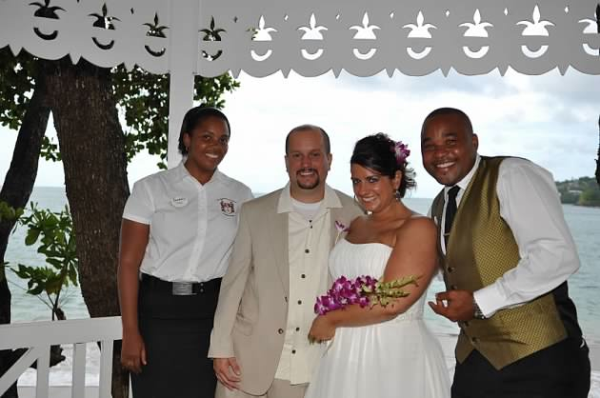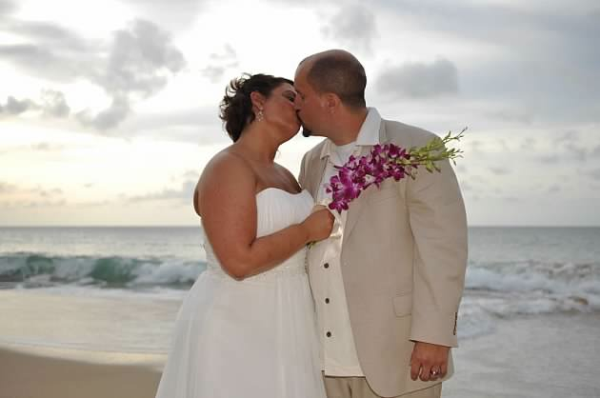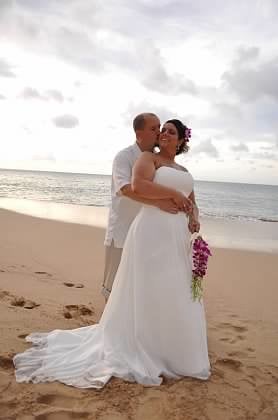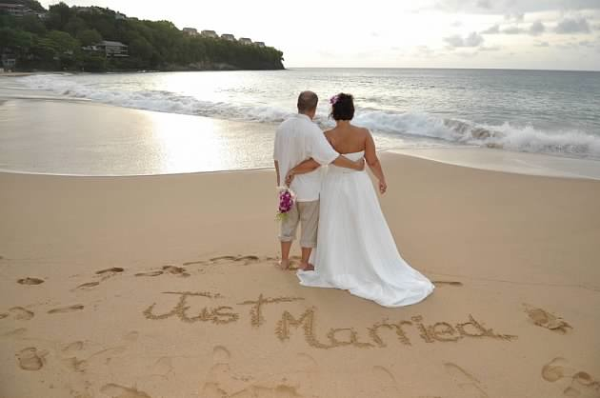 Jessica's Tips to Brides
- What NOT to miss: "Sandals Personal Butler Service was absolutely amazing. I was SO GLAD we had this for our destination wedding. It made everything so relaxed and stress-free on the wedding day, especially."
- What I would have changed: "Justin said he was kind of nervous and anxious waiting for wedding time. I was in the spa - all relaxed. He was hanging out by himself. He is not a spa guy. If your groom would enjoy a massage, then I'd say schedule that for that time that you're apart before the wedding. For him, if I'd realized this would be the case, I would have just gone ahead and scheduled the wedding to be earlier in the day. When you're planning your wedding, you might be thinking more along the wedding time of a traditional, local wedding. Once you're on island time, there is not much difference between 11am and 4pm!"

Check out Part 2 of this blog series for the rest of Jessica and Justin's WeddingMoon story.
Click below to request your complimentary WeddingMoon consultation with The Sand Lady.