Sandals Resorts has released a vow renewal package that can be added on to any Sandals or Beaches stay. Couples wishing to renew vows benefit from a less expensive, more inclusive option than ever before. When combining the new ReTie the Knot ceremony with Sandals or Beaches other unique offerings, the possibilities are endless.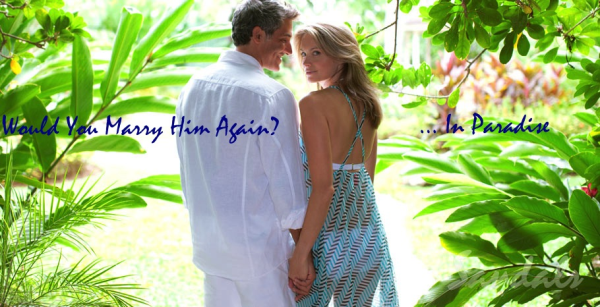 Here is some basic information about the ReTie the Knot vow renewal ceremony as well as some ideas for creating wonderful memories of your vow renewal.
What's included:
For $300 the couple will receive:
Personal pre-travel planning services
Personal on-resort event planner and dedicated ReTie The Knot team
Musical accompaniment (pre-recorded)
Bouquet and boutonnière
Celebration Cake
30 minute Charming reception with sparkling wine & cold hors d'oeuvres for couple and up to six guests
Commemorative certificate and gift
One (1) 5x7 Honeymoon Photograph
Honeymoon dinner for couple at a resort specialty restaurant with white-glove service and a complimentary bottle of sparkling wine
Decorated honeymoon room
Mimosa breakfast-in-bed a morning of your choice

An Intimate Celebration
We have planned several intimate, "just the two of us" vow renewal ceremonies for couples celebrating their 5 year or 10 year anniversary.The most touching is the military couple who had a quick, no frills wedding before a deployment, and now they get to have the romantic ceremony of their dreams. Others may be celebrating their overcoming an obstacle in their relationship by reaffirming their commitment to each other and taking a second honeymoon.
The renewal of vows ceremony typically begins with the bride and groom walking down the aisle together. The vows are very similar to traditional wedding vows, but they are adjusted to reflect that you are recommitting to love, honor and cherish each other forever. The ReTie the Knot package takes advantage of the gorgeous beach and gardens surrounding the Sandals resort or Beaches resort where the couple is staying. The bride caries a bouquet of orchids, and the groom wears a matching boutonnière. Of course, if you want to customize your ceremony decor, all of the Sandals wedding items are available to you.
The ReTie the Knot package includes a simple but elegant reception of champagne and hors d'oeuvres as well as a fondant celebration cake. The ceremony and reception included in the package is for up to 6 guests (in addition to the bride and groom), which is nice for couples with a few friends or family members in attendance.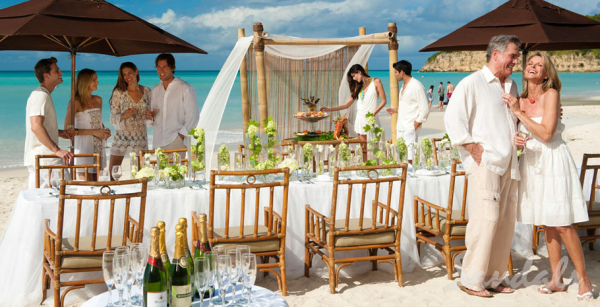 A Chance to Reconnect with Family and Friends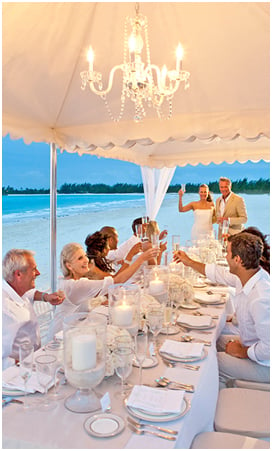 The vow renewal + family reunion group travel package is also very popular. Gathering the family for a beach vacation to celebrate a 30th wedding anniversary is a great way to reconnect with each other. If your group books 5 or more rooms, the Sandals Resort or Beaches Resort will add special group amenities to the ReTie the Knot package. Groups may receive a private group dinner, complimentary room upgrade and spa services for the bride and group, commemorative photos, and more. During certain times, Sandals has also offered free rooms as a group promotion. (Ask us if this is currently available!)
If you are looking for 30th wedding anniversary ideas, a 25th wedding anniversary trip, or an intimate beach vow renewal ceremony, click below to request your complimentary renewal of vows consultation. Or join our next webinar for more information on who we are, the services we provide and what the Sandals and Beaches resorts have to offer.